December 02, 2011
Media Advisory: Carnegie Mellon Offers Sleigh Full of Holiday Story Ideas
Experts Comment on Online Shopping, Imagine Diets, "Night Before Christmas"; TV Studio Available
Contact: Ken Walters / 412-268-1151 / walters1@andrew.cmu.edu

PITTSBURGH—With the holidays upon us, Carnegie Mellon University offers several story ideas and experts to make your season brighter and hopefully your editorial load a little lighter: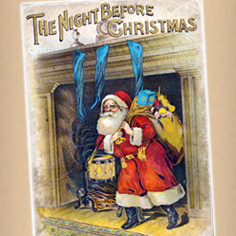 Protecting Cyber Shoppers:
With Cyber Monday sales up 20 percent from last year, online shoppers are already busy making holiday purchases. But how can shoppers tell when an online deal may actually be a scam? Carnegie Mellon Computer Science Professor Lorrie Cranor offers a variety of tips to help consumers navigate successfully online during the season.

Classic Christmas Poem Focus of CMU Collection:
With more than 300 editions of "'Twas the Night Before Christmas," Carnegie Mellon's collection of the famous poem is one of the largest known compilations and includes all publications of the poem in its first 50 years of existence. The published works provide for great visuals as many artists created various interpretations of St. Nick over the years.
Buying Green During the Holidays:
A green Christmas doesn't just refer to trees and wreaths. CMU Professor Scott Matthews can speak to why consumers should be thinking about sustainability and buying green during the holidays.
And About Those Christmas Cookies: For those worried about holiday weight gain, CMU Professor Carey Morewedge has some advice: think about eating your favorite holiday cookie or treat and imagine devouring every last bite. A study by Morewedge found that when you imagine eating a certain food, it reduces your actual consumption of that food.
Winter Break Doesn't Need to Slow Job Search: Students don't have to put their job or internship plans on hold because of the holidays, according to experts at CMU's Career and Professional Development Center. They offer tips on helping job seekers make the most of their time over winter break, including job shadowing and volunteering.
CMU TV Studio: We can connect these experts to your outlet through Carnegie Mellon's state-of-the-art TV studio. Working with Pittsburgh International Telecommunications (PIT), we offer domestic and international connectivity via satellite and fiber. PIT owns and operates one of the largest satellite facilities in the world. Please contact Ken Walters at walters1@andrew.cmu.edu or 412-268-1151 for more information and to make arrangements.
###