December 01, 2011
Press Release: CMU's Popular "Building Virtual Worlds" Show Moves to Carnegie Music Hall of Homestead
Features Student-Designed Interactive Games, Experiences
Contact: Byron Spice / 412-268-9068 / bspice@cs.cmu.edu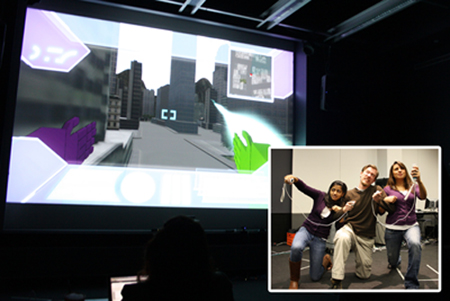 PITTSBURGH—The annual Building Virtual Worlds Show, which has always played to packed houses on the Carnegie Mellon University campus, will move off campus for the first time this year, with a public show at 4 p.m., Dec. 7 in the Carnegie Music Hall of Homestead.

As in previous shows, BVW 2011 will showcase the latest ideas in interactive digital technology produced by students in the Building Virtual Worlds class at CMU's Entertainment Technology Center. The student teams, including both technically and artistically minded members, use digital technology to tell stories, create fine art and play games. Some projects even provide training opportunities.

"BVW gives us a chance to show off the work of our talented students to an audience that will include entertainment industry executives," said Mk Haley, associate executive producer of the ETC, who teaches the BVW course with renowned game designer Jesse Schell. "It's always been hard to accommodate everybody who wants to see the show, but moving it to this large hall in Homestead will give the general public a great opportunity to join in the fun."

Admission is free and on a first-come, first-served basis. Doors at the hall, located at 510 East 10th Avenue in Munhall, will open at 3:15 p.m. with pre-show activities. More information about the show is available at http://bvw.etc.cmu.edu/content/show/.
The BVW class was originated by the late Randy Pausch, a computer science professor who became world famous for his inspirational "Last Lecture" video and book.
###
Above, Anisha Deshmane, Ken Hilf and Paola Soriano, ETC students in this semester's Building Virtual Worlds class, use Wii remotes to cooperatively control a robot and save the world in the virtual world they created.