December 13, 2011
Press Release: Carnegie Mellon's Pop Cabaret Gets "Frostbite" With Festive Winter Celebration at Andy Warhol Museum Dec. 16
Jolly Exploits Include Wassailing, Furry Animals, Apocalyptic Carols, Sugar Plum Faeries, Evergreen Tragedies, Fruitcake Fantasias, Big Bellies and More
Contact: Lauren Goshinski / 412-268-1533 / laurengo@andrew.cmu.edu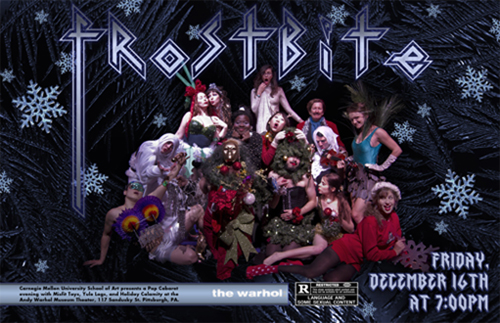 PITTSBURGH—Students in Carnegie Mellon University School of Art's "POP Cabaret" course return to the stage with "Frostbite," a rollicking winter variety show featuring misfit toys, yule logs and holiday calamity from 7 to 9 p.m., Friday, Dec. 16 at the Andy Warhol Museum Theater. The show is free with museum admission.
Using the first floor theater at the Warhol as a playground and performance space, students have been creating short solo and group performances throughout the fall semester. Performers include Adelaide Agyemang, Harrison Apple, Julia Cahill, Murphi Cook, Kinji Cheri Ho, Chelsea Lupkin, Julie Mallis, Ippei Mori, Stephanie Ross, Tim Sherman, Ann Stone, Mitsuko Verdery and Pan D. Monium as host.
The class' first performance, "I Put A Spell on You," in October packed the house. It was a Halloween extravaganza featuring Camp, Lo-Fi Glamour, Neo-Burlesque, Expanded Cinema of the Mind, Alien Vaudeville, Spectacles of Failure, Stand-Up Tragedy, New-Age Jesters, Cosmic Troubadours, Psychedelic Bards, Beautiful Noise, Imploding Vinyl Escapable and Exotic Masquerade.
"Pop Cabaret: Performance Art at the Andy Warhol Museum," an advanced level electronic and time-based media course, is a first-time collaboration around a college course for the Warhol and Carnegie Mellon. Associate Professor of Art Suzie Silver teaches the course and she draws from her personal background in performance art for the class, encouraging students to draw from club and cabaret performance.

###