August 02, 2011
News Brief: Treuille Named a 2011 PopTech Fellow
By Byron Spice bspice(through)andrew.cmu.edu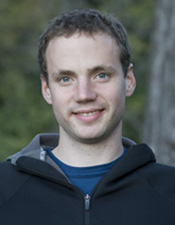 PopTech, the global social innovation incubator and thought leadership network, has announced that Adrien Treuille, assistant professor of computer science and robotics, is one of its 10 Science and Public Leadership Fellows for 2011.
Scientists often receive little training in leadership, collaboration and communication as they pursue their research, PopTech officials say. To help address this issue, PopTech selects high potential, early- and mid-career working scientists and provides them with intensive, high-quality training, a powerful social network, mentoring and opportunities for scientific and public leadership and engagement.
"The most critical issues our society faces call for scientific collaboration, counsel and insight," said Andrew Zolli, PopTech's executive director. "Visible scientific leaders shouldn't be a rarity and we believe the Science and Public Leadership Fellows program helps to fill this gap."
The yearlong Fellows program begins with a special leadership retreat at National Geographic headquarters in Washington, D.C. The Fellows then present their work on stage at the annual PopTech conference, Oct. 19-22, in Camden, Maine.  
Treuille, who previously was named to Technology Review magazine's prestigious TR35 list of the world's top 35 innovators under the age of 35, specializes in finding ways to make realistic computer simulations run in real-time on everyday computers. He also uses crowdsourcing, computer games and simulation techniques to engage the public in scientific discovery. Earlier this year, he launched a new online game, EteRNA, which harnesses game play to uncover principles for designing molecules of RNA.
For more information about PopTech and the Fellows program, visit the
PopTech website
and
blog
.