August 24, 2011
Press Release: Carnegie Mellon's Christopher Bettinger Recognized as Top Young Innovator by Technology Review
Researcher's Novel Work in Developing New Biomaterials To Improve Implants Gains National Attention
Contact: Chriss Swaney / 412-268-5776 / swaney@andrew.cmu.edu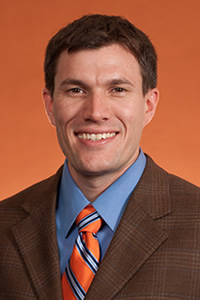 PITTSBURGH—Carnegie Mellon University's Christopher Bettinger, who is developing new materials to advance the medical device industry, has been selected by Technology Review magazine as one of the world's 35 top innovators under the age of 35.
"This is a tremendous honor for me as I continue to hone my skills and research for developing technologies that will improve the field of medical devices and the patients these devices serve," said Bettinger, an assistant professor of materials science and biomedical engineering at Carnegie Mellon's top-ranked College of Engineering.
Bettinger was selected as a member of the TR35 class of 2011 by a panel of expert judges and the editorial staff of Technology Review, which evaluated more than 300 nominations. He will join other TR35 honorees in discussing their achievements at the emtechMIT2011 conference Oct. 18-19 at the MIT Media Lab in Cambridge, Mass. All TR35 winners will be featured in the September/October issues of Technology Review and online at www.technologyreview.com/tr35.
Bettinger has worked at the interface of materials science and biomedical engineering for more than 10 years. He has conceived and produced a number of innovations that aim to better integrate medical devices with the human body. These technologies include new synthetic materials that mimic the natural properties of soft tissue and biodegradable electronics that could usher in a new era of electronically active implants. His work is designed to lead to broader advances in the field of medical devices to reduce the burden of human disease and improve quality of life.
"Technology innovation is key to driving growth and progress in the areas of research, medicine, business and economics," said Jason Pontin, editor-in-chief and publisher of Technology Review. "This year's group of TR35 recipients is driving the next wave of transformative technology and making an impact on the way we live, work and interact. We look forward to profiling and working with these technology leaders each year, and watching their continued advancement in their receptive fields."
Pradeep K Khosla, the Dowd University Professor and dean of Carnegie Mellon's College of Engineering, praised Bettinger for his innovative, problem-solving research. "This is a wonderful award for an outstanding young professor who continues to excel in developing technologies for use in a wide range of biomedical applications."
Additional information about past and present TR35 winners and judges is available at www.technologyreview.com/tr35.
###