April 07, 2011
Press Release: CMU's "The Alice Project" Re-imagines Lewis Carroll Classic Tale Through Melding of Performance and Technology
Faculty Member Marianne Weems Makes Her CMU Directorial Debut April 14-23
Contact:
Dennis Schebetta / 412-268-2068 /
dschebet@andrew.cmu.edu
Teresa Thomas / 412-268-2900 /
Thomas@cmu.edu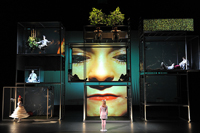 _PITTSBURGH—"The Alice Project" takes Lewis Carroll's Victorian sensibility and drags it kicking and screaming into the present day, as Carnegie Mellon University's School of Drama transforms the story on a high-tech, three-story, steel maze set layered with multimedia.
The last offering of CMU's drama season, "The Alice Project" opens Thursday, April 14 and runs through Saturday, April 23 in the Philip Chosky Theater in the Purnell Center for the Arts.
Directed by graduate directing program leader and faculty member
Marianne Weems
, this eagerly anticipated interdisciplinary performance explores the character of Alice through a modern-day lens of technology, using live cameras, projection surfaces and soundscapes on the steel structure.
"This use of multimedia creates connections and disconnections, which offers the viewer a window into this contemporary reading of Alice," said Weems, who will be making her directorial debut for the School of Drama.
Over the past year, a team of graduate designers, undergraduate directors and graduate dramatic writing students have collaborated with the director, actors and technicians to develop the performance.
"'The Alice Project' combines performance, imagination, conceptual skills, technology and text in an original provocative and innovative explosion of theatricality," said Peter Cooke, head of the School of Drama.
Weems said the scale of the three-story steel structure of the set, each with multiple "cells" for various characters, combined with live action captured on video and encompassing soundscapes heightens the multi-varied perspective and creates a complex pictorial frame.
"As Alice's adventures move from square to square, the past and present encounter each other in a dynamic dialogue," Weems said.
The story follows Alice as she tiptoes through a set of seemingly arbitrary and fluid rules of the looking glass world to progress through a game of chess and become Queen. She meets a series of melancholic and delusional creatures unable to move outside of their own squares.
"Alice is constantly questioned as to who she is. Each encounter is a struggle with power, with what forces will define her identity and how much she requires affirmation and recognition from others along the way," said second-year graduate directing student Katie Brook. "Alice is seen and named by a variety of characters in multiple ways. As they struggle to define her, the story reflects fragments of different perceptions of Alice."
Weems joined the School of Drama to lead its directing program in 2008. She is co-founder and artistic director of the New York performance company The Builders Association, which has enjoyed more than a decade of critical acclaim for its innovative stage productions that integrate architecture, text, video art and sound.
Ticket prices begin at $15 for adults and $10 for students. To purchase tickets, call the School of Drama box office at 412-268-2407 or visit
http://www.drama.cmu.edu
.
###