April 05, 2011
Press Release: Fire in My Belly: CMU To Host Screening and Panel Discussion On Film's Controversial Removal From Smithsonian
Panel Will Include Co-curator of "Hide/Seek" Exhibit at Center of Censorship Debate Paul Eiss
Contact:
Shilo Raube / 412-268-6094 /
sraube@andrew.cmu.edu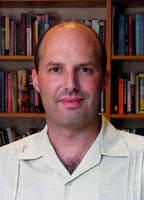 PITTSBURGH—Late last year, the Smithsonian's
National Portrait Gallery
removed David Wojnarowicz's film "Fire in My Belly" from its "Hide/Seek: Difference and Desire in American Portraiture" exhibit after elected officials and organizations complained about a clip showing ants crawling on a crucifix. The removal triggered a national controversy over the film's censorship.      
Carnegie Mellon University's
Center for the Arts in Society
(CAS), a collaborative organization that supports a project exploring controversy in the arts, is bringing the film and a panel of experts to campus to have a conversation about art, censorship and controversy. The event will take place at 4:30 p.m., Wednesday, April 6 in the Adamson Wing (Baker Hall 136).      
"By screening 'Fire in My Belly,' we join in a national movement of universities, museums and other cultural institutions that have also done so as a gesture of support for Wojnarowicz's artistic legacy and one of concern over the implications of the film's censorship at the Smithsonian," said
Paul Eiss
, CAS director. "We also take this as an opportunity to open a discussion of controversy in the arts, and especially of the place of arts censorship — whether high-profile or behind the scenes — in curation. Is censorship ever justified?"      
Jonathan Katz
, co-curator of the "Hide/Seek" exhibit and chair of the Visual Studies Program at SUNY, will participate on the panel, bringing his first-hand account of how the Smithsonian handled the pressure to remove the film. Katz will be joined by
Richard Howells
, reader in Cultural and Creative Industries at King's College London,
David Dombrosky
, executive director of CMU's Center for Art's Management and Technology, and
Andrea Deciu Ritivoi
, associate professor of English at CMU.      
Howells and Ritivoi are involved with the CAS initiative that explores controversy in the arts, looking at what defines controversy, how understandings vary over time and place, how controversies are created or expressed in cultural productions, and how and when controversies turn into conflicts. Howells, Ritivoi, and
Judith Schachter
, professor of anthropology and history at CMU, also are co-editing a collection of essays titlted "Outrage: Art, Controversy and Society."       
The event is co-sponsored by CMU's CAS, School of Art, Master of Arts Management Program and the College of Fine Arts Dean's Office. For more information, visit
http://www.cmu.edu/cas/events/upcoming/apr-06-2011.html
.
###
Pictured above is Paul Eiss, director of CMU's Center for the Arts in Society.