April 04, 2011
News Brief: CMU SuperStars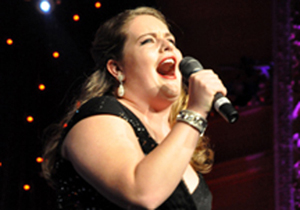 Gillian Hassert and Jesse Carrey-Beaver are 2011 Campus SuperStars.
In "Campus SuperStars," a solo singing competition modeled after the hit television show "American Idol," Hassert, a junior voice performance major, and Carrey-Beaver, a sophomore drama student, took two of the top three spots last night (April 3) before a packed house at Carnegie Music Hall.
Hassert won the $5,000 first prize with a rousing performance of Barbara Streisand's "Down With Love." Carrey-Beaver placed third, winning $1,000 with a performance of Michael Buble's  "Feelin' Good." The $1,000 second-place prize went to Deshanna Terry of the University of Pittsburgh.
CMU students dominated the competition as Hassert and Carrey-Beaver were two of five finalists from Carnegie Mellon. Joining them last night were drama students Daniel Bellomy, Mimi Gianopulos and Kailie Torres. The other five finalists were from Pitt and Point Park University.
Campus SuperStars is sponsored by the Edward and Rose Berman Hillel Jewish University Center.
Pictured are Gillian Hassert (top) and Jesse Carey-Beaver. Photos by Brian Cohen.