April 28, 2011
Press Release: Carnegie Mellon Student Work Showcased at Undergraduate Research Symposium, May 4
Contact: Abby Houck / 412-268-4290 / ahouck@andrew.cmu.edu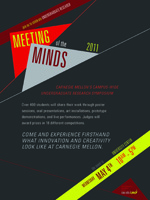 PITTSBURGH—The technological foundations for creating an autonomous firefighting robot, a study of Pennsylvania's Appalachian Trail communities and behavioral research about generosity to the poor are just a few of the projects students will present at Carnegie Mellon University's annual
Meeting of the Minds
undergraduate research symposium scheduled for 10 a.m.-5 p.m., Wednesday, May 4, in the University Center.
"We encourage undergraduates to engage in the type of research and creative work that at many institutions is the sole domain of faculty and graduate students. Many projects grow out of students' coursework in their majors, some are investigations along an independent set of interests, while others typify Carnegie Mellon's emphasis on interdisciplinary collaboration to solve real-world problems," said Stephanie Wallach, assistant vice provost for undergraduate education and director of the
Undergraduate Research Office
and
Fellowships and Scholarships Office
.
Close to 450 students from the university's six undergraduate schools will share their work through oral presentations, poster sessions, prototype demonstrations, art installations and live performances. Faculty members mentor and advise the students throughout their research experience. Projects focus on a variety of topics, including the following:
Improving safety through technology
Computer science major Dev Doshi and computer science and mechanical engineering dual majors Philip Brown and Christopher Tomaszewski will present a poster and prototype fire identification system they developed that employs thermal and optical sensors to pinpoint the base of a fire. In the future, they will integrate this system with an autonomous extinguishing platform to create a new home firefighting solution.
Electrical and computer engineering majors Ilya Kelner and Siddharth Nangia will present a poster on SWANDRIVE, which is short for Smart Wireless Analysis Network for Driver Information and Vehicle Efficiency, to help improve the driving experience.
Exploring local landmarks and culture
Design major Rachel Inman will share "My City, My Block," which advances design solutions for public spaces in Pittsburgh.
English major Mackenzie Smith will deliver an oral presentation on the impact and meaning of the Appalachian Trail in Pennsylvania communities. She solo hiked the 2,181-mile trail before beginning her studies at Carnegie Mellon.
Understanding societal issues
Economics major Shweta Suresh will present a poster on her study of the impact of social risk aversion and audience effects on generosity to the poor.
Science and Humanities Scholar Eda Akyar and biological sciences major Devleen Baksi will present a poster on understanding hypertension and health literacy in Pittsburgh neighborhoods.
Students will compete for 18 awards sponsored by university organizations, individual donors and companies such as Boeing, IBM, Intel, Johnson & Johnson, Lockheed Martin, Semiconductor Research Corporation and Yahoo!.
More information on the symposium, including a presentation schedule, can be found at
http://www.cmu.edu/uro/MoM/schedule.html
.      
###