April 25, 2011
Press Release: Will Wright, Creator of Spore® and The Sims® To Receive Carnegie Mellon's Randy Pausch Prize
Contact: Byron Spice / 412-268-9068 / bspice@cs.cmu.edu

PITTSBURGH—Carnegie Mellon University's Entertainment Technology Center (ETC) will present its Randy Pausch Prize to Will Wright, the gaming industry legend who created The Sims®, Spore® and other breakthrough video games, in recognition of his success in mixing artistry with technology.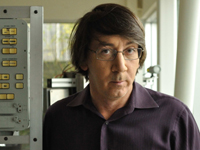 Wright will receive the Pausch Prize, named for the late co-founder of the ETC and famed author of "The Last Lecture," at the Pittsburgh Technology Council's Design, Art & Technology Awards (DATA) event April 28. He also will participate in the ETC's first Building Virtual Worlds Spring Festival, April 29, at the ETC-Pittsburgh headquarters.

"The Pausch Prize celebrates those industry professionals who have bridged the gap between right brain and left brain thinking; Will Wright personifies that ideal," said Don Marinelli, executive producer and co-founder of the ETC. "His work manifests not only technical expertise and artist creativity, but he is legendary for games and interactive experiences that are educational and entertaining at the same time. Randy always pointed to Will Wright as the perfect role model for ETC students. It is a tremendous privilege for us to honor Will Wright with the Randy Pausch Prize."

Wright's work shares another tie with Pausch: the educational software package known as Alice. Pausch spearheaded the development of Alice, which teaches the principles of computer programming by enabling even novices to create 3-D computer animations. The latest version, Alice3, incorporates animated characters and scenes from The Sims2 that were donated by Electronic Arts. Carnegie Mellon makes Alice available as a free download at www.alice.org.

The ETC initiated the Pausch Prize following Pausch's death from pancreatic cancer in 2008. The first recipient was Ed Catmull, president of Walt Disney and Pixar Animation Studios.

Wright's visit to Pittsburgh and the ETC coincides with the first Building Virtual Worlds Festival. The Building Virtual Worlds (BVW) interdisciplinary project class, offered each fall semester, was created by Pausch and remains the ETC's signature course. This semester, a spring section of the class was offered for the first time and includes students from a new joint master's program with the University of Madeira.

Just as the fall class is capped by the BVW Show, which routinely attracts standing-room-only crowds from both campus and the entertainment industry, the spring BVW class will reach its climax with the first BVW Festival. Teams of class members will be assigned rooms where they will create unique interactive experiences. Wright, entertainment industry members and other invited guests will tour the rooms and provide valuable feedback for the students.

Follow the School of Computer Science on Twitter @SCSatCMU.

###
Pictured above is Will Wright, creator of The Sims® and Spore®.