April 14, 2011
Press Release: Continuous Video Link Allows Students To Interact on Projects, Courses and Informally
Internationally Acclaimed Classical Guitarist Will Perform Free Concert at 8 p.m., Thursday, April 21 at CMU
Contact: Ken Walters / 412-268-1151 / walters1@cmu.edu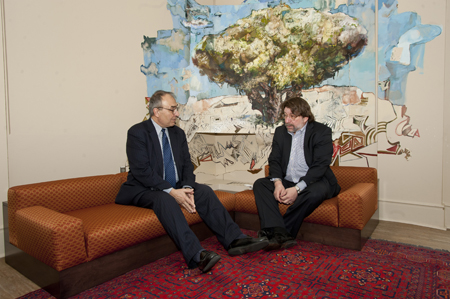 PITTSBURGH—Pittsburgh is known as the City of Bridges and now a new student lounge at Carnegie Mellon University's Pittsburgh campus may be the city's largest connector. It joins CMU's Pittsburgh campus with its campus in Doha, Qatar, 8,000 miles away. 
The "Doha Room," located next to the Resnik Café, has a sister space in Doha, dubbed the "Pittsburgh Room." A continuous video conferencing link promotes cross-cultural experiences between the two sites.
"The selection of the location was very intentional," said Kim Abel, director of
Housing and Dining Services
. "It is a major pathway for our students. It is my hope that members of our campus will not only go to the room for programs or information sessions, but even more importantly that they may happen upon the room and discover some things about our campus community along the way."
Abel said she created the concept after hearing the stories of students who traveled to the Qatar campus as part of the
IMPAQT program
. The program, which stands for Initiating Meaningful Pittsburgh and Qatar Ties, was founded in fall 2008. IMPAQT students travel between the campuses during spring break. The students develop strategies and initiatives to build relationships between the two campuses and enhance student experiences.
"It is exciting to be able to keep in constant touch with the students in Pittsburgh that I met during IMPAQT, and I am looking forward to making new friends through the 'Pittsburgh Room,'" said Khadeejah Al-Husseiny, a sophomore at
Carnegie Mellon University in Qatar
. "I look forward to the academic benefits of the room as we can easily exchange ideas and help each other on projects."
CMU alumnus Ryan Woodring (MFA'10) painted a Sidra tree, a symbol of haven for scholars. In ancient Qatar, Bedouins would meet under Sidra trees to discuss various issues, said Andres Velez (H'14) a member of the 2011 IMPAQT team. He said he hopes people take the initiative to strike up conversations with students in Qatar while walking through the space.
"This room is here to raise awareness of Qatar, the Middle East and of different people. I think it would be great to really start building connections," Velez said.
Details of the Doha Room in Pittsburgh also evoke design elements of the Carnegie Mellon Qatar building. Abel said the room includes similar stained-glass windows, carpets, arches and square cutouts in the walls. Seating in the room resembles the colorful tiered Majilis-style seating in the Qatar building's large assembly area.
Abel created the concept of the Doha Room and solicited pictures and ideas from faculty and staff who have visited Doha. Steve Gergely, associate director of Dining Services, and Quad3 architects helped to finalize the plan. The project was sponsored by Housing and Dining Services.
"The two rooms will help our students exchange cultural experiences with students from the Pittsburgh campus and vice versa, which is key to building an increased understanding and awareness between the two campuses. This will be done virtually and in real time, using technologies at Carnegie Mellon for which we are so preeminent," said G. Richard Tucker, interim dean of Carnegie Mellon Qatar.
In Doha, located near the student lounge, the Pittsburgh Room is decorated with Pittsburgh memorabilia such as Carnegie Mellon pennants and a map of the Pittsburgh campus. A main feature in the room will portray "The Fence" on the Pittsburgh campus, a CMU landmark that students paint and display witty or poignant messages. In Doha, the students will be writing their messages on a dedicated wall.
IMPAQT students said they hope people will be inspired by the connections and meet new people as well as reconnect with old friends.
"They are students just like us," said Daniel Chow, a junior in design and human-computer interaction. "Their social and cultural views are slightly different because of the region, but ultimately we are all 20-something-year-olds in college. It's amazing how similar our campuses are."
###
Ilker Baybars, will take over as dean of Carnegie Mellon's Qatar campus in August, and Mark Kamlet, executive vice president and provost, sit in the Doha Room in front of artwork painted by Ryan Woodring (MFA'10).