April 14, 2011
Press Release: Carnegie Mellon School of Music Presents Iranian-American Guitarist Lily Afshar
Internationally Acclaimed Classical Guitarist Will Perform Free Concert at 8 p.m., Thursday, April 21 at CMU
Contact: Shilo Raube / 412-268-6094 / sraube@andrew.cmu.edu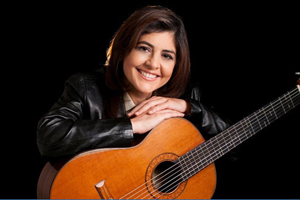 PITTSBURGH—While the policies of former President George W. Bush have been and will continue to be debated, a new book by Carnegie Mellon University Postdoctoral Fellow
Adam Hodges
explores how the Bush administration effectively mobilized support for the war on terror through language.
Published by
Oxford University Press
,
"The War on Terror Narrative: Discourse and Intertextuality in the Construction and Contestation of Sociopolitical Reality"
analyzes the president's speeches along with dialogue in the media and among citizens to illustrate how the narrative was rhetorically built and reaffirmed — as well as challenged and contested.
"As a linguist, I became interested in how the Bush administration was able to successfully construct a narrative to explain a moment in history — 9/11 — and then wage two wars with the support of congress and the American people," said Hodges, the A.W. Mellon Postdoctoral Humanities Fellow within CMU's
Department of English
. "They created a simple narrative that was easy to understand and retell. Once it entered into public circulation, it took on a life of its own and became a widely shared cultural narrative."
According to Hodges, the administration used several key phrases that were repeatedly used in the media and by the public, including "You're either with us or against us"; "Central front in the war on terror"; and "Fighting the terrorists in Iraq so we don't have to fight them here." In addition, the structure of the narrative allowed the administration to summarize disparate foreign policy objectives — such as the war in Iraq — within the scope of fighting terrorism. Even challengers of Bush's policies used the language and accepted many of the premises.
"Once a narrative is widely used, opponents are forced to adopt the language to enter into the debate," Hodges said. "But this doesn't mean the narrative remains static. Opponents and supporters alike introduce subtle changes that can shift the narrative in different directions."
For example, as part of his research, Hodges talked with college students to see how they made sense of Bush's U.S. foreign policy and the language used to describe it. He found that while they diverged along party lines, the Republican students' support went beyond what Bush articulated and the Democrats challenged his policies using the Bush administration's own language.
"As Americans, we can learn from this to be a little more critical of political discourse," Hodges said.
For more information on "War on Terror Narrative," visit
http://www.oup.com/us/catalog/general/subject/Linguistics/SociolinguisticsAnthropologicalL/?view=usa&ci=9780199759583
.
###
Pictured above is the cover of Adam Hodges' book, "The War on Terror Narrative: Discourse and Intertextuality in the Construction and Contestation of Sociopolitical Reality."