April 12, 2011
Press Release: Media Advisory: CMU's Engineering College To Host Portuguese Multimedia CEO Rodrigo Costa and Expert Panel on Broadband and Mobile Devices
Contact: Chriss Swaney / 412-268-5776 / swaney@andrew.cmu.edu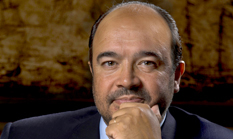 Event:
Carnegie Mellon University's top-ranked
College of Engineering
will host
Zon Multimedia
CEO Rodrigo Costa, who will discuss the growth of cable, Internet and mobile phone services in Portugal. Zon Multimedia is a Portugal media holding company and one of the nation's first dot-com success stories. 
After 15 years with Microsoft, where he was worldwide corporate vice president of the OEM (Original Equipment Manufacturer) Division based in Seattle, Wash., Costa became executive vice president of the PT group and CEO of the wire line business at Portugal Telecom. At the corporate level, he also was head of human resources, information technology and innovation. In 2007, Costa spun off the cable and media business of the PT group, formerly PT Multimedia, and renamed it Zon Multimedia. He recently signed a deal with the Walt Disney Co. to introduce ABC-On-Demand to Zon customers, including popular U.S. shows like "Grey's Anatomy" and "Desperate Housewives." Among other positions, he served as vice president of the Portuguese-American Chamber of Commerce and is general counsel of Coimbra University, one of nine Portuguese universities involved with the Carnegie Mellon/Portugal Program — a long-term collaboration designed to expand research and education in the area of information and communication technologies. 
Following Costa's keynote speech, an expert information technology panel will discuss multimedia issues.
Pradeep K. Khosla
, the Dowd University Professor and dean of CMU's College of Engineering, will moderate the panel which includes: CMU's Pedro Ferreira, an assistant research professor at the
H. John Heinz III College
and the
Department of Engineering and Public Policy
; and
Rahul Telang
, an assistant professor of information systems at Heinz College.
When:
4:30 - 5:30 p.m., Tuesday, April 19.
Where:
Singleton Room, Roberts Engineering Hall, Carnegie Mellon University, off Frew Street, Pittsburgh, Pa. 15213.
###
Pictured above is Rodrigo Costa.