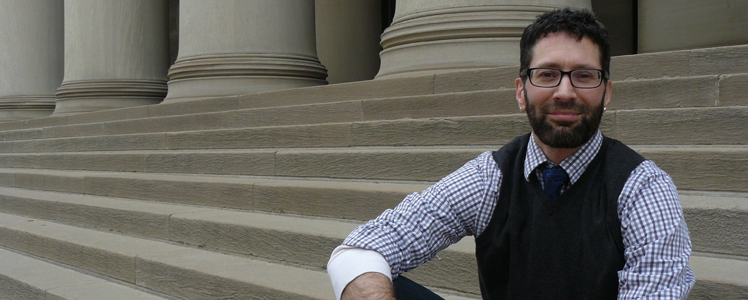 Jayscott Cardinal-Tahkine
2013 M.S. in Computational Biology Alumnus
"I was and continue to be thrilled to be a part of a university whose tradition of synthesis and reputation for excellence made it my first, best choice to begin again."
I earned bachelor degrees in Biology and French "long, long ago in a land far, far away" that is to say Texas in the 1980's. After university, I taught high school science, and then became an assistant director of a parochial school, where I taught reading and French in addition to administrative duties. Following my assistant director position, I moved into a supervisor role for TORO-NSN's North American irrigation software technical support team. I had a knack for seeing the root causes in system behaviors, so I eventually became an organizational facilitator helping TORO-NSN reexamine and improve its processes.  
But life holds surprises. I was in a car accident and sustained numerous serious injuries, including severe damage to my voice. My old life of facilitating large groups or teaching a crowd all day was no longer an option, but I still had a science background, ongoing interests in ecology and development, and a familiarity with the technical environment. Continuing my education with research in mind seemed like an enjoyable and viable choice to inaugurate a new professional life.
CMU has a reputation not only for technical prowess, but also for successfully integrating disciplines, which is exactly the kind of productive dichotomy I felt I could be a successful part of. The M.S. in Computational Biology program provides wonderful experiences with the computational tools that modern biology requires, but because the balance between the computational and biological emphases is dynamic, choosing an avenue of study can feel a bit like aiming at a moving target.
In addition to coursework, I have just begun working in the Durand lab. Dr. Durand, along with Dr. Hiller and Joshua Earl (M.S. in Computation Biology graduate 2009) of the West Penn AHS Center for Genomic Sciences, is bringing me up to speed on a project examining the amount of horizontal gene transfer between strains of Streptococcus pneumoniae and Streptococcus mitis.  
As for my future…one day at a time!  It is easy at CMU to get bogged down by the volume of what needs to be done "right now", but I would like to see this arc of my life continue to a Ph.D. where I can use the skills I am developing.  My primary interests are in marine ecology, but one thing I have learned: the world can turn in a very short time.
B.A. in French, Abilene Christian University, Abilene, Texas.
B.S. in Biology, Abilene Christian University, Abilene, Texas.