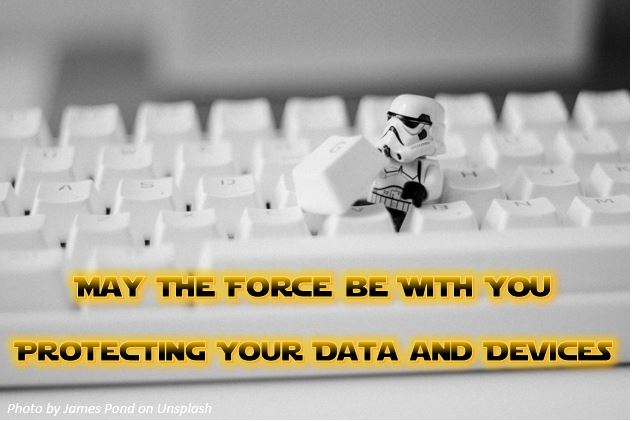 May 04, 2020
May the Force Be With You in Protecting Your Data and Devices
Monday, May 4th is National Star Wars Day.  Millions of science fiction fans of the Star Wars movie franchise may find themselves uttering a pun on the famous catchphrase "May the Force be with You", which means wishing someone good fortune. Now you may not be a Jedi master like Obi-Wan Kenobi, but here's how to use the force so you can protect your data and devices from cyber threats and Sith Lords.
A Long Time Ago in a Galaxy Far, Far Away
The current state of cybersecurity is far more advanced than it was just ten years ago. As technology advances, so does the sophistication of cyber threats. Malicious actors are finding new ways to steal your personal information and wreak havoc on your computer. Even though there is an increasing number of cyber threats, all it takes is user vigilance to mitigate these threats. Security awareness is the greatest tool a computer user can have in protecting their personal information from cyber-attacks. Be sure to the follow the tips below and be cautious of suspicious emails and unfamiliar senders. Remember young Jedi, you are our only hope.
Do or Do Not. There is No Try...When Protecting Yourself From Known Threats
Securing your devices from known threats should be a matter of 'doing' and not 'trying'. You don't need a lightsaber to prevent dark forces from taking over your device, instead use an antivirus software. Antivirus software is an easy to implement option that is designed to prevent, detect, and remove common malware from your computer. Once an antivirus software is installed, it should be set to run daily scans and enforce real-time protection to keep your computer malware free. There are a number of antivirus software options that exist, CMU offers the following antivirus options:
MAC OS: Sophos (personal computers) ESET Endpoint Security (university owned computers)
Windows: Windows Defender (personal and university owned computers)
The Smallest Vulnerabilities Can Blow Up the Biggest Death Star
Star Wars fans vividly remember when Luke Skywalker was able to perfectly launch two proton torpedoes into a small thermal exhaust port on the Death Star, blowing the powerful space station to smithereens. This concept applies to device security as well. Even the smallest vulnerability on a device could allow a cyber attacker to distribute malware onto your device and possibly on your network. Computers, tablets, and smart phones all have periodic software updates that patch security vulnerabilities, that includes operating systems as well as other software.  The longer your devices go without installing patches, the more susceptible they are to an attack.
An easy way to ensure that you are fully protected is to configure your devices to update automatically. This way, you will receive the latest security patches as soon as they are available.   Be sure to restart your computer  if prompted. Otherwise, the patches may not take effect.
For information on how to update your devices visit: https://www.cmu.edu/iso/aware/protect-what-you-connect/updating.html
I Find Your Lack of Data Backups Disturbing
Losing your most prized possessions can be disappointing, just ask Lando Calrissian when he lost the Millennium Falcon to Han Solo in a card game. Losing access to data, especially data that is crucial to your job, can be devastating. Data loss can occur at any time for a variety of reasons such as human error, damaging malware, mechanical damage, and computer theft. It is important to regularly back up your data. Consider using multiple backup mechanisms such as a secure cloud service and an external hard drive.
To learn more about your data storage options visit: https://www.cmu.edu/computing/services/comm-collab/collaboration/index.html