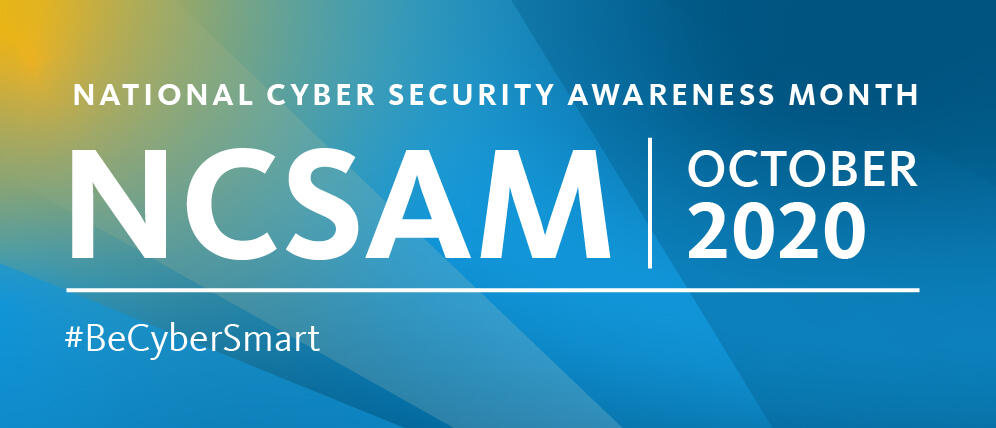 Held every October, we celebrate National Cybersecurity Awareness Month (NCSAM) by highlighting the importance of cybersecutity. This year's theme is Do Your Part. Be Cyber Smart.
For our first completely virtual NCSAM, we have an action-packed month full interactive games, contests, resources, and events designed to help you stay safe and secure online. See below for different ways you can #BeCyberSmart and participate. Also, be sure to visit the ISO Training & Awareness home page for more cyber security awareness tips!
Two things can you do right now to help protect your Andrew Account
#1. Register to use DUO Two-Factor Authentication
Two-factor authentication is an extra layer of security to protect your identity and university data. DUO 2FA uses supported devices such as smart phones and tablets or hardware tokens to complete a secondary form of authentication. 
#2. Enable the PhishAlarm Report Phish Button
The PhishAlarm Report Phish button is an email mailbox add-in available for Google Mail and Microsoft Exchange users. PhishAlarm allows you to easily repot a suspicious phishing message to the ISO with the click of a button. 
Visit the PhishAlarm Home Page to learn more!
2020 NCSAM Resource and Events Hub
Security Awareness Video Series

Too busy to read our articles? No problem! The ISO has partnered with other agencies and organizations to bring you fun and informative security awareness videos that can help explain general and technical cyber security concepts, attacks, and tools!  
ISO Digital Scavenger Hunt

Put your detective skills to the test by searching the Internet to solve clues and find the buried treasure to win!
To play, send a message to iso@andrew.cmu.edu with the subject: Scavenger Hunt!
Mandiant Cyber Security Webinar

Join the ISO and FireEye Mandiant security leaders on Thursday, October 29th from 1:00-2:00 to review the latest cyber threats to higher education as well as techniques for validating an institution's ability to defend itself by using adversary behaviors.
Catch a Phish

Do think you you can spot a phishing email when you see one? Or do you consider yourself a cybersecurity expert who can spot a phish using only the raw email logs? Put your skills to the test by playing the following games!
Cyber Security 101 Course

Do you or your department want to learn more about how to stay cyber secure at Carnegie Mellon University? Enroll yourself or your team for the online Cyber Security 101 Awareness Training hosted in Canvas. The course reviews the best CMU security practices to keep yourself, your family, and the university safe from cyber threats.
Cybersecurity Toolkit Tip Sheets 

During NCSAM, the following tip sheets and resources are invaluable tools for reducing cybersecurity risks and protecting yourself online. Use these resources in your communities and share them with your family throughout the year to encourage strong, nationwide cybersecurity.