April 03, 2017
Sudipto Mandal winner in Three Minute Thesis competition
Sudipto Mandal - MSE PhD student has won the Alumni Choice Award at the Three Minute Thesis Competition.
His thesis proposal, "Improving performance of aerospace materials using Integrated Computational Materials Engineering (ICME).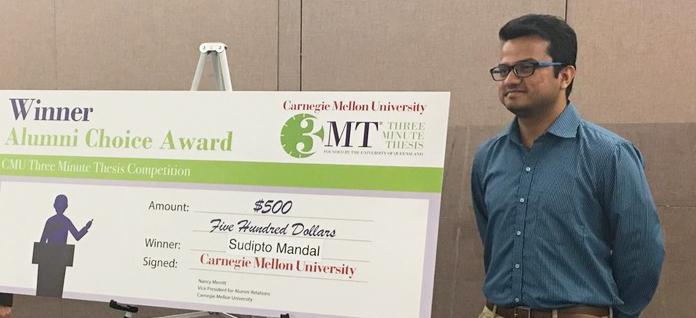 Three Minute Thesis (3MT®) is an internationally recognized competition that challenges PhD students to present a compelling oration on their thesis and its significance in just 3 minutes, in language that anyone can understand. 3MT is not an exercise in trivializing or 'dumbing-down' research but requires students to consolidate their ideas, crystallize their research discoveries and capture the imagination of their audience.

The Carnegie Mellon University 2017 competition took place on April 4. read more