August 12, 2015
Carnegie Mellon Racing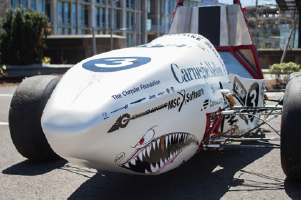 What is Carnegie Mellon Racing?
Carnegie Mellon Racing (CMR) is the student chapter of the Society of Automotive Engineers at Carnegie Mellon University. We design and fabricate an all-electric, open-wheeled racing vehicle to compete in the international Formula SAE Electric and Formula Hybrid competitions. Our vehicles' performance rivals established supercars with 0-60mph times of 4 seconds and over 2Gs of lateral acceleration. 
We are open to all students in the Carnegie Mellon community and provide a unique opportunity to learn and apply skills beyond the scope of the classroom.  We attract the highest level of students from Mechanical Engineering, Electrical Engineering, and other departments, including Materials Science & Engineering, for a project that demands not only engineering prowess and fabrication skill, but also leadership and teamwork ability.
What is FSAE?
Formula SAE is a student design competition organized by SAE International. The concept behind Formula SAE is that a fictional manufacturing company has contracted a design team to develop a small Formula-style race car. The prototype race car is to be evaluated for its potential as a production item. The target marketing group for the race car is the non-professional weekend autocross racer. Each student team designs, builds, and tests a prototype based on a series of rules whose purpose is both to ensure safety and promote clever problem solving.
Formula SAE promotes excellence in engineering as it encompasses all aspects of the automotive industry including research, design, manufacturing, testing, validation, developing, marketing, management, and finances. Formula SAE takes students out of the classroom and allows them to apply textbook theories to real work experiences. Time and again, our members rate membership in Carnegie Mellon Racing as a key facet in their educations and accruement of experience.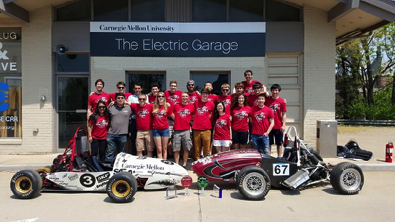 What is CMR's history?
CMR switched to the all-electric vehicle class in 2013 and is now entering its third year of electric vehicle design.  Our team transitioned to electric vehicles to utilize a wider array of talent available in the undergraduate community at CMU. In our first year, we placed 3rd overall at Formula Hybrid and 6th at Formula Electric, performing well in the design events at both competitions. In our second year, we placed 2nd overall at Formula Hybrid and 8th at Formula Electric. This year we aim to continue our tradition of excellence in design and work hard to bring a thoroughly tested and race-ready car to competition.
How is Materials Engineering involved?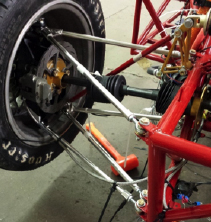 CMR strives to use innovative materials and manufacturing methods to maximize vehicle performance. Often, this focuses on reducing vehicle mass. Past projects have included the development of composite suspension linkages coated in nanocrystalline steel which involved extensive physical testing performed in the undergraduate labs. In addition, CMR uses cutting edge 3D-printing technologies for both plastics and metals which bring new challenges in understanding materials and characterizing their properties. Furthermore, CMR uses carbon fiber composites for both our body and aerodynamic elements which require composite analysis as well as development of lay-up methods. Additional future projects could include the development of a carbon fiber monocoque or heat-treating metals after welding to increase strength. There are many areas for MSE students to become involved in CMR and help us make a better, faster car. For more information, please contact team president Josh Kubiak at jkubiak@andrew.cmu.edu or visit our website at www.carnegiemellonracing.org