University News Briefs
New Home for Posner Collection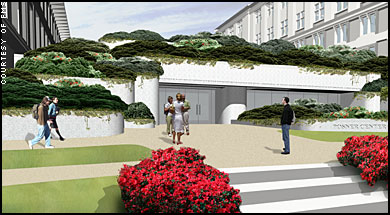 The university broke ground this month for a new facility between Posner Hall and the College of Fine Arts. The structure will house the Posner Family collection of rare books and jade and ivory carvings, and executive meeting rooms. The new building, scheduled for completion in early 2004, will be mostly underground with a rooftop sculpture garden. The main entranceway, featuring one-story tall windows, will face Margaret Morrison Carnegie Hall and the tennis courts.
The 11,400 square-foot building, designed by WTW Architects, is a gift of Henry and Helen Posner. Henry Posner is an emeritus life trustee of the university. The Posner collection includes one of only four copies of the Bill of Rights printed by Thomas Jefferson in 1792 and Christopher Columbus' letter to King Ferdinand and Queen Isabella of Spain describing his first voyage to America. The collection is presently housed in Hunt Library.
Dancing With Colors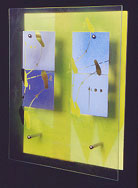 Kelly Young, a designer/illustrator in the university's Communications Design Group, will display his original artwork in an exhibit called "Dancing with Colors," April 28-May 2 in the University Center Art Gallery. The exhibit will consist of 10 paintings that experiment with color usage and perception, and celebrate his ability to see and work in color. In his native Taiwan, Young was mistakenly diagnosed as being colorblind. The gallery is open 8:30 a.m.-5 p.m., Monday-Friday.

Alumni Treated to Insider's View of Carnegie Mellon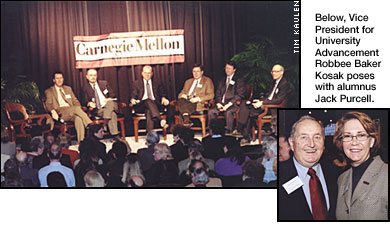 More than 300 Pittsburgh alumni gathered at the Heinz Regional History Center in late March to get an insider's view of the university. After a reception and remarks by President Cohon, deans from the university's colleges took the stage for a panel discussion on university issues. Bill Flanagan, chief communications officer for the Allegheny Conference and former financial reporter for KDKA-TV, was the moderator. From left to right above are Mark Wessel, acting dean of the Heinz School, CFA Dean Martin Prekop, President Cohon, SCS Dean Jim Morris, MCS Dean Richard McCullough, and H&SS Dean John Lehoczky.
Eliminating Leaders Not Enough to Destroy Terrorist Networks

Terrorist networks can spread information rapidly and are highly adaptive to change, so permanently disabling them will require a sustained and multi-pronged campaign, says Kathleen Carley, professor of computer science and organizations. Carley and her students are engaged in dynamic network analysis, which examines the relationships and tasks of members of various networks and how those change over time. This can reveal how networks can operate more efficiently and how they can be disrupted.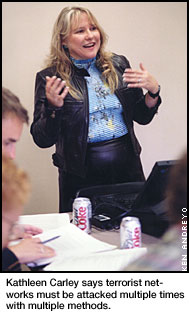 "Most networks are capable of healing themselves. Exactly how fast depends on the kind of network it is. Since networks can heal themselves you can't take just a one-shot strategy—such as go in and get this person, and you'll be done," Carley says.
Carley is the director of the Center for Organizational Analysis of Social and Organizational Change. She holds appointments in the departments of Social and Decision Sciences and Engineering and Public Policy, the Heinz School, and the Institute for Software Research, International.
Networks that are organized into self-sufficient cells—such as al-Qaida—are hard to destroy in part because they can quickly isolate and eliminate their own weaknesses, Carley says. When such a network is attacked, it can reform quickly, learn from its mistakes, develop new leaders and emerge even stronger than it was before.
Terrorist networks must be attacked multiple times and with multiple methods, according to Carley. This is the challenge that confronts the United States as it hunts for Osama bin Laden.
Cyber Lounge Opens in Wilkinsburg
Cyber Lounge At Wilkinsburg, which aims to help narrow the digital divide by providing residents in the community with computer technology and programming in community development, personal growth and the arts, had its grand opening in early April. The lounge was created through the collaboration of two consecutive Heinz School systems synthesis project groups and the staff of the Wilkinsburg Intra-Community Network.
This year's system's project group consisted of students Jada Beaufford, Natalie Greene, Erin Hand, Kwang-Ho Kim and Brandie Knazze, as well as faculty advisor Michael P. Johnson.
Whittaker to Enter DARPA Grand Challenge
William L. "Red" Whittaker, the Fredkin Research Professor in the Robotics Institute and a veteran developer of mobile robots, has announced that he will participate in the Defense Advanced Research Projects Agency (DARPA) Grand Challenge, a 250-mile off-road race from Los Angeles to Las Vegas on March 13, 2004.
A cash award of $1 million will be granted to the team that fields the first vehicle to complete the designated route within a specified time limit. DARPA said the purpose of the challenge is to leverage American ingenuity to accelerate the development of autonomous vehicle technologies that can be applied to military requirements.
For more on Whittaker's project see www.RedTeamRacing.org.
Center for University Outreach Restructured
Provost Mark Kamlet has announced that the Center for University Outreach has been restructured as the Center for School Outreach (CSO). The CSO will consist of three units, C-MITES, a program for kindergarten through 7th grade students gifted in mathematics, science and the language arts; Role Models, which serves African American children of the Hill District in 3rd-5th grades; and School Science Programs DASH and FAST. The new center will be directed by Judith Hallinen and will report to Vice Provost for Education Indira Nair. The center will also coordinate the numerous K-12 programs on campus. A small advisory group of Carnegie Mellon faculty and staff will provide guidance.
Husband-Wife Team Gets Scientific Honor
For their significant contributions to theory and experimental biophysics, John Nagle, a professor of physics and biological sciences, and his wife, Stephanie Tristram-Nagle, a senior research biologist, have received the Avanti Award in Lipids from the Biophysical Society.
The work of Nagle and Tristram-Nagle focuses on lipid bilayers, which form the fundamental core of the biological membranes that encapsulate a cell's contents. Lipid bilayers are indispensable. They prevent cellular intruders, but also easily accommodate proteins that allow critical molecules —like neurotransmitters, ions and hormones—to bind to or enter cells. The chemical characteristics of lipids naturally drive them to form bilayers.
Avanti Polar Lipids, Inc., bestows the Avanti Award biennially, alternating between the Biophysical Society and the American Society for Biochemistry and Molecular Biology. Winners, who receive a cash prize, are outstanding investigators known for their seminal studies in lipid metabolism, lipid enzymology or lipids in membranes.
Programs Ranked Among Best by U.S. News
Carnegie Mellon's graduate programs in art and design, engineering and business rank among the nation's best in U.S. News & World Report magazine's annual analysis of "America's Best Graduate Schools."
Carnegie Mellon's art and design programs ranked 10th overall, engineering ranked 11th and business 17th.
In art and design specialty categories the university ranked 2nd in multimedia/visual communications, 3rd in industrial design and 6th in graphic design.
In specialty engineering categories, Carnegie Mellon ranked 2nd in computer engineering and 10th in electrical/electronic engineering.
In specialty business areas, Carnegie Mellon ranked 2nd in information systems, 3rd in production/operations and 5th in supply chain/logistics.
U.S. News & World Report annually ranks graduate programs in business, engineering, law, education and medicine, but does not rank programs in other fields on a yearly basis. This year's newsstand book, includes rankings from previous years in public affairs, the sciences and social sciences and humanities.
The rankings are online at www.usnews.com and in the newsstand book "America's Best Graduate Schools."
Aseem Sood Wins Goldwater Award
Aseem Sood, a junior majoring in computer science and math, has won a one-year Barry M. Goldwater Scholarship. Sood, whose career goal is a Ph.D. in artificial intelligence, is interested in research involving the development of intelligent machines capable of communicating and interacting at the human level.
Sood is one of 300 college sophomores and juniors from the U.S. to receive a scholarship this year from the Barry M. Goldwater Scholarship and Excellence in Education Foundation. Goldwater Scholars were selected from almost 1,100 mathematics, science and engineering students nominated by their colleges and universities.
The scholarships are for one or two years and will cover the cost of tuition, fees, books, and room and board for up to $7,500 a year.
New Book Aids Software Architects
"Documenting Software Architectures" a new book authored by Associate Professor of Computer Science David Garlan, Software Engineering Institute members Paul Clements, Felix Bachmann, Len Bass, James Ivers and Reed Little, Robert L. Nord, Siemens Industrial Residential Affiliate at the SEI, and Judith Stafford, assistant professor of computer science at Tufts University, has been published by Addison Wesley.
Part of the SEI Series in Software Engineering, the book aims to help software developers decide what information to document, and offers guidelines and examples of how to express an architecture in a form that everyone can understand.
Theater Design Students Earn Awards
Theatre design students Jennifer Alexander and Jeff Hinchee recently received United States Institute for Theatre Technology (USITT) Awards for Young Designers and Technicians in the Performing Arts.
Alexander, a master's student, received the Barbizon Award for Lighting Design. The award is given to a young designer who has demonstrated excellence or outstanding potential in the area of lighting in the performing arts while pursuing a graduate degree. Judges said her colorful work was "imaginative, and professionally executed."
The W. Oren Parker Award for Scene Design was presented to Hinchee, a senior, who was described as having "a keen grasp of the elements of design."
The awards were presented as part of USITT's Annual Conference and Stage Expo in Minneapolis, Minn., which drew more than 3,000 professionals from around the world. USITT is the only organization that offers a monetary prize to young professionals in technical theatre. The awards provide recognition and $500 or $1,000 to support students as they begin their careers.
Tucker Garners Linguistics Award
G. Richard Tucker, head of the Department of Modern Languages, has received the 2002 Award for Distinguished Scholarship and Service from the American Association of Applied Linguistics (AAAL). With this award, Tucker becomes the only person to have been honored by all four of the major North American language education associations: the AAAL, the American Council on the Teaching of Foreign Languages, the National Association for Bilingual Education and Teachers of English to Speakers of Other Languages.
A professor of applied linguistics, Tucker has planned and implemented national language surveys in several developing nations, including Jordan, the Sudan and the Philippines. Tucker also conducted a 12-year longitudinal study of foreign language immersion programs in Quebec.
His research includes evaluating the development and implementation of an innovative Japanese program for elementary school students in Pittsburgh and assessing the implementation of an innovative Spanish program for elementary school students in the Chartiers Valley School District. He has published more than 200 books, articles or reviews concerning diverse aspects of second language learning and teaching.
Alum Directs Oscar-Winning "Chicago"
"Chicago," the Broadway-to-film hit directed by Carnegie Mellon alumnus Rob Marshall, earned six Academy Awards, including the Oscar for Best Picture, at this year's Academy Awards presentation. Marshall, a Pittsburgh native, won the Director's Guild of America Award and the Golden Globe Award for best director for his work in "Chicago."
Marshall will be honored locally at the History Makers Award dinner at the Westin Convention Center on May 2. The History Makers celebration honors "those who have made contributions of lasting importance to the history of Western Pennsylvania, the nation and the world."
Also receiving a History Makers Award will be University Professor Allan Meltzer, an internationally known, award-winning economist at the Graduate School of Industrial Administration.
Marshall graduated in 1982 from Carnegie Mellon's School of Drama, where he studied music theater. Since that time, he has won numerous awards for directing and choreography.
Shucker Receives Luce Scholarship
Heinz School student Cherington Love Shucker, a master's degree candidate in public policy and management, has been awarded a 2003-04 Luce Scholarship. The Luce Scholars Program provides stipends to young Americans to further their civic and professional goals by living and working in an Asian country for one year. The program places its scholars in internships where they can make a professional contribution to their host organization while learning some of the many things that Asia has to teach.
Shucker hopes to advance global efforts in HIV/AIDS prevention and policymaking by exploring Asian culture firsthand.
Krakovsky Honored by H&SS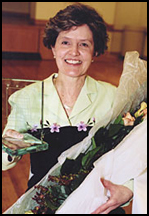 At the College of Humanities and Social Sciences' annual Staff Recognition and Awards Ceremony, Rose Krakovsky, receptionist for the Department of Statistics, received the Outstanding Service Award. She has worked for the university since 1981, and for the Department of Statistics since 1995. The college's Newcomer Award went to Karen McCracken, laboratory manager at the Center for the Neural Basis of Cognition since July 2001.

Classical Indian Dance Production on Campus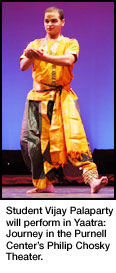 Carnegie Mellon will present a Srishti Dances of India production, Yaatra: Journey, at 8 p.m., May 2 and 2 p.m., May 4 in the Purnell Center's Philip Chosky Theater. Tickets are $8 general admission and $5 for faculty, staff and students.
The work is a collaborative project by Srishti Artistic Director Sreyashi Dey and Carnegie Mellon master of professional writing student Vijay Palaparty. "It's a wonderful experience to be able to work while doing something I love to do," said Palaparty.
Srishti Dances of India is a Pittsburgh-based Indian classical dance company.