"New House" to Become Home for Incoming First-Year Students
Facility One of the First "Green" Residence Halls in the Country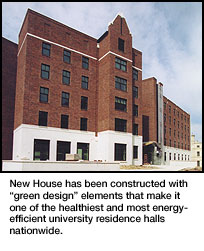 When incoming first-year students move into "New House," the new residence hall on Morewood Avenue, in late August, they'll undoubtedly notice the foosball and pool tables, the wireless Internet access and central air conditioning.
What they won't see are the hidden "green" elements that make New House one of the healthiest and most energy-efficient residence halls in the nation.
The building's construction, which began in January 2002, used "green design" principles in compliance with the university's commitment to environmental sciences and the deployment of sustainable practices to bring about a healthier, energy-efficient environment. New House is one of the first residence halls in the country to apply for certification from the Leadership in Energy and Environmental Design (LEED) Green Building Rating System. Developed by the U.S. Green Building Council, LEED evaluates projects in several categories, such as water efficiency, energy and atmosphere, materials and resources, and indoor environmental quality.
One of the major green characteristics of the 256-bed New House is its continuous air circulation system.
"Part of the green initiative in this building is that we exceed the code for indoor air quality," said Tim Michael, director of Housing Services. "Operable windows are all that you're required to have in a sleeping room, but in addition, we have heating and cooling fans. Every room also has forced-air so that there's continuous fresh air circulation throughout the whole building, which should reduce colds and allergy issues."
This increase in airflow would seem to lead to an increase in energy costs for the university, but Michael says that assumption doesn't hold up. With an exterior wall design almost eighteen-inches thick composed of concrete, brick, insulation and air voids, New House is the model of energy efficiency.
"This building is going to cost very little to run compared to other buildings its size because it is very well built," Michael said. "It's very tight. Even in the winter when we didn't have the heat on, it was warm."
In addition to the increased airflow, all public spaces will have individual thermostats, so the temperature can be adjusted to suit the needs of those using the area.
Lighting in the New House is also geared toward energy conservation. Recessed lights in the hallways and public meetings spaces in each residential wing are activated by motion sensors. When foot-traffic in the corridors is at a minimum or rooms are not in use, the lights will dim, thereby reducing electricity consumption.
To be LEED-certified, construction should use as many recycled products as possible. One of the recycled products used in New House will cover nearly all of its 72,000 square feet.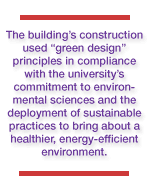 "The carpeting was specially made for Carnegie Mellon from recycled yarn," Michael said. "The university helped to design it, and it will perform the same, even though it's made of recycled contents."
To reduce transportation costs and air pollution, LEED certification guidelines also require that most building materials come from within a 500-mile radius of the construction site. As a result, all brick and drywall in New House was made locally.
Green design is also apparent in the dormitory's energy star white roof. "Part of LEED certification is that you minimize the building's impact on the microclimates around it," Michael explained. "A dark roof creates a heat well—a hot spot where heat rises. A white roof helps eliminate that."
In another significant step for the environment, Rycon Construction Co., New House's builder, was able to divert 98 percent of the construction waste—more than 835 tons—into recycling and reuse streams.
New House will also feature the latest generation of commercial washers and dryers that use half as much water and a third less electricity. Michael said the laundry machines spin at a much higher rate so clothes are almost dry when they come out of the washer. He said the machines will save several hundred-thousand gallons of water each year.
While the green design makes New House distinctive from most residence halls in the nation, it's only a part of what makes it special. The facility is also designed to meet the university's "universal accessibility" standard for people with disabilities.
The sidewalks that surround New House are brick with a sand-over-concrete base to make them safe for wheelchair users. The bricks will not shift as they would if they were installed on sand alone. The walks are also sloped at a specific angle to make them accessible without handrails. A ramp located behind the building offers easy access to the Morewood parking lot.
Inside the building, all facilities comply with the American with Disabilities Act (ADA). The state-of-the-art kitchen has appliances with buttons on the front, and an empty space under the sink allows easy use for individuals in wheelchairs. All restrooms are ADA-accessible, all fire alarms are equipped with a strobe light, and the main stairway is equipped with two rails that adhere to ADA standards.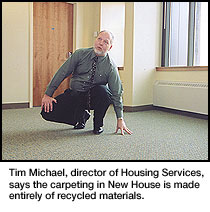 Aside from setting new standards in green design and accessibility, New House will offer all the comforts of home to its residents. Bike racks and an outdoor patio with a gathering area accent the front exterior of the building, and a picnic area with grills is in the back.
The first floor offers a recreation area with plenty of seating and tables for socializing, along with a large-screen television and various games. It also provides easy access to the dining/multipurpose meeting room (space for 36) and modern kitchen, stocked with pots and pans, cooking utensils and appliances. Unlike most other residence halls, the laundry facilities are on the main floor, near the recreation area.
"One of the recent trends in housing is to bring some of the common-use facilities like laundry up out of the basement and into the building to make it part of the social environment," Michael said.
The first floor is also home to a conference room and a fitness facility with equipment like exercise bikes and rowing machines.
The residential areas will be co-ed by wing, with each having its own social area and restrooms. A typical room is about 160 sq. feet with 28 electrical outlets, cable/data jacks and freestanding furniture that can be arranged according to the whims of its residents. Beds can be lofted, bunked or remain on the ground.
While it won't open its doors to first-year students until August, New House had its first overnight visitors during commencement weekend. Housing Services extended an invitation to parents of graduating seniors who were campus residents, offering overnight accommodations in New House free-of-charge. Nearly 200 parents accepted the offer.
Michael says that once construction is completed, incoming students will work with residence life staff to really make the space their own. By selecting artwork for the walls and agreeing on rules for their wings, students will be able do what it takes to make New House their home.
Top
Susan Cribbs