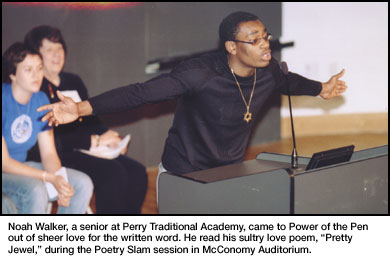 Power of the Pen Conference Gives High Schoolers Insight into Writing Careers
Freestyle poet and hip-hop artist Toni Blackman brought down the house as the keynote speaker at the 10th annual Power of the Pen writing conference, which brings about 500 Pittsburgh high school students to Carnegie Mellon each year to hear poets, novelists and other professional writers talk about their craft.
Blackman, the first U.S. Hip-hop Ambassador, gave a rousing and informative presentation in which she rapped, read poetry and described the ins and outs of life as a professional writer.
"Poetry is a way to take your opinions and your heartfelt emotions and express them and it's a way to take what you believe and make a bold statement," said Blackman, the founder and director of Freestyle Union.
Power of the Pen was the brainchild of Pittsburgh novelist Albert French, author of "Billy" and "I Can't Wait on God," as well as Ed Barr and Carol Lennon of the Pittsburgh Mercy Health System, a chief sponsor of Power of the Pen.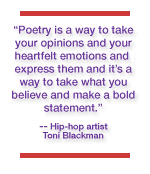 The event is organized by Jim Daniels, professor of English and director of the Creative Writing Program at Carnegie Mellon, and Diane Hughes, a literacy officer with the Pittsburgh Public Schools. Daniels, French and Pittsburgh Post-Gazette editorial cartoonist Tim Menees were among the other presenters this year.
"I think the students get a taste of what some of their options might be down the line in terms of careers in writing, and it also gives them exposure to writers who are really doing it—people who have made it as writers in one way or another and use writing as part of their careers, and their lives, as opposed to the writers they study in school, most of whom are dead," Daniels said.
The highlight of Power of the Pen invariably is the Poetry Slam, a free-spirited, sometimes raucous event in which teams of students from each of the 12 city high schools read poetry in front of an auditorium full of their peers. The poems are evaluated by a panel of judges who hold up cards, Olympic figure-skating style, to indicate how many points each poem receives. The crowd cheers wildly for a particularly well-written verse and boos when the judges don't give a favored poem the recognition the audience thinks it deserves.
Many of the students are aspiring writers, but others, like Noah Walker, a senior from Perry Traditional Academy, come just out of sheer love for the written word.
"I loved it. It inspired me so much," said Walker, 17. His poem, "Pretty Jewel," was a sultry love poem that turned up the heat in McConomy Auditorium.
Daniels said that high school students who have attended Power of the Pen in past years later decided to study writing at Carnegie Mellon.
"For the university, it helps us link to the Pittsburgh community and gives us an identity as a place that values writing, and that values the young people of Pittsburgh," Daniels said.
Top
Jonathan Potts