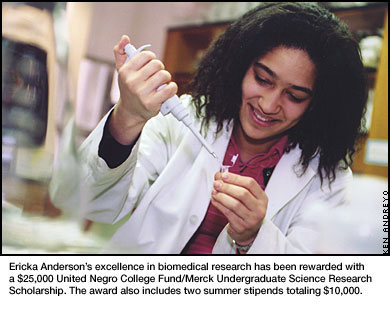 Biology Major Earns Highly Selective Research Scholarship
Junior Ericka Anderson has received a prestigious 2003 United Negro College Fund (UNCF)/Merck Undergraduate Science Research Scholarship in recognition of her outstanding work in biomedical research and her future potential. The award, one of only 15 given nationwide, includes a $25,000 scholarship and two summer stipends totaling $10,000.
Anderson, a biological sciences major in the Mellon College of Science, has for the past two years conducted research in molecular genetics in the laboratory of Peter Berget, associate professor of biological sciences.
"I didn't expect to win this scholarship," said Anderson, a self-effacing student with a penchant for biology. "Dr. Berget brought me the application this fall and encouraged me to apply."
"Ericka has done extremely well in courses that have given many students difficulty," Berget said. "Ericka is clearly one of those fortunate students who quickly found the perfect balance between academics and the rest of her life. Ericka has enormous joy for her life that one rarely finds in students these days. It has been my pleasure to mentor her."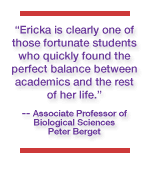 In Berget's laboratory, Anderson is genetically engineering a humble yeast organism that has had a critical gene removed, or "knocked out." Anderson will insert a mouse version of the same gene into the yeast. A special fluorescent marker attached to this mouse gene will allow her to determine whether it—and the protein it makes—works just as the yeast gene normally does. If the mouse version functions inside the yeast cell like a yeast gene, then it's likely that the gene itself hasn't changed significantly over many thousands of years.
"This is one way to study evolution between organisms, to see what genes are changed and what's conserved," Anderson explained.
Last summer, Anderson conducted research in the laboratory of Carnegie Mellon alumnus Glenn Radice, a research associate professor of obstetrics and gynecology, and cell and developmental biology at the University of Pennsylvania.
Anderson's interest in biology was stimulated by her interactions with teachers at Unionville High School, in her hometown of Kennett Square, Pa., just outside of Philadelphia.
"In high school freshman biology, I really clicked with the teacher," Anderson said. By her junior year, Anderson was hooked. "I loved it so much. I knew it was for me."
Anderson, who maintains a 3.6 GPA, managed to apply for the scholarship despite a grueling academic semester and recuperating from knee surgery to repair a torn anterior cruciate ligament injured during the varsity soccer season. This semester, instead of sprinting for the track team as she normally would, Anderson is learning guitar. She also is continuing her work in Berget's laboratory and taking courses in molecular biology of prokaryotes, immunology and experimental biochemistry.
Initiated in 1996, the UNCF-Merck Science Initiative is designed to increase the number of African American students pursuing careers in scientific research. Today, less than 2 percent of all Ph.D. students in biology and chemistry are African Americans.
As a UNCF/Merck Undergraduate Fellow, Anderson, who plans to earn a Ph.D. in genetics, has agreed to perform two internships, one this summer (2003) and one next summer (2004) at a Merck Research Laboratory. She and other scholarship recipients will be honored at a "Fellows Day" planned for June 21-24 in East Brunswick, New Jersey.
Top
Lauren Ward