Knapp, Jacobson, Westerberg Receive Education Awards
English Professor Peggy Knapp, Principal Chemical Engineering Lecturer Annette Jacobson and Arthur W. Westerberg, the Swearingen University Professor of Chemical Engineering are this year's recipients of the university's prestigious education awards.
Knapp earned the William H. and Frances S. Ryan Award for Meritorious Teaching. Jacobson received the Undergraduate Advising Award, and Westerberg garnered the Robert E. Doherty Award for Sustained Contributions to Excellence in Education. The awards were presented at an April 9 ceremony in Kresge Recital Hall.
Peggy Knapp
Knapp's nomination packet praised her for treating students as colleagues, for her impact on students and for always thinking of students first.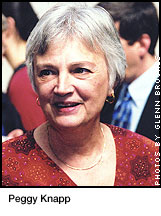 In a supporting letter, one freshman who had Knapp as a teacher during his first semester describes her as "one of those rare jewels in the academic world—an individual whose attention and caring for her students is only matched by her stature as a serious scholar.... In class she treated us like distinguished colleagues rather than mere students."
Another student lauded her for making a lasting impression on her intellectual, professional and personal life. "I feel that the Ryan Award might be one way in which to express to Professor Knapp the indelible impression she has left on me, and undoubtedly many other students at Carnegie Mellon.... I am very fortunate to be a product of my education, when one of my most memorable professors is Professor Peggy Knapp," she said.
A first-year student said she felt so uncertain of her own abilities that she decided ahead of time not to raise her hand in any of her classes. She soon changed her mind.
"I became so inspired by her sincere love for the literature, I felt free to express my own enthusiasm for the readings by asking questions and sharing ideas. The class... taught me new ways to approach, comprehend and analyze literature, but the most important lesson was one in self-assurance. Professor Knapp supported me...by providing me with a class where I felt safe, challenged and ultimately inspired."
In her nomination letter Professor Kristina Straub, associate head of the English Department, said, "The quality that stands out over the 14 and a half years that I have taught and worked with Peggy in the English Department is the sheer and unflagging intensity of her concern for the quality of education afforded to Carnegie Mellon students.... Working with her on committees that range from hiring to the curriculum, I have observed that her first priority is always, 'what would be best for our students?'"
Annette Jacobson
"For over 14 years, Annette has been an active part of the Carnegie Mellon community and her contributions during this period are impossible to parallel," said a nominating letter signed by professors Lorenz Biegler, Andrew Gellman, Myung Jhon and Ignacio Grossmann. "As an outstanding teacher, she continuously earns the praise and thanks of her students. Her faculty course evaluations are consistently in the range of 4.4 to 4.8, among the highest in the College of Engineering."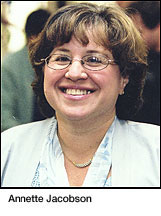 "Her classroom teaching is superb," adds John L. Anderson, dean of the College of Engineering, "but more relevant to this award is her advising and mentoring of undergraduates through the Colloids Polymers Surfaces (CPS) option, which she has done brilliantly.
"She takes a sincere interest in each student and helps to tailor their elective choices in CPS to their major.... Annette never fails to sit down with the student to explain the pluses (and minuses) of entering this program and how best to complete it within the framework of the student's major."
"Her contributions in education have been outstanding, including her coordination of the CPS program option for undergraduates," adds Cristina Amon, director of the Institute for Complex Engineered Systems (ICES). "These students are in high demand by companies like Bayer, PPG, and Procter & Gamble. The major reasons for this demand is the five different CPS courses taught by Annette that involve extensive laboratory involvement."
A former student summed up the feelings of many alumni when she wrote: "Dr. Jacobson's genuine interest in the goals and achievements of her students, her ability to network resources and to create a rich and productive academic environment are all factors that make her an outstanding adviser, and place her among the very best at Carnegie Mellon University."
Arthur Westerberg
"Art Westerberg has had a long-standing and substantial impact on design education here at Carnegie Mellon and elsewhere," says Chris Hendrickson, head of the Civil and Environmental Engineering Department.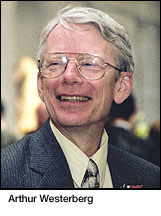 "Most recently, he has been a leader in developing and continuing an innovative product design course within ICES... (that) involves students from different disciplines working on design problems in collaboration with an industrial sponsor. It provides both excellent experience for students and a broad exposure to innovative design approaches. Few, if any, universities have a comparable course...."
Suresh Konda of the Software Engineering Institute says that although he was never formally taught by Westerberg, "I have been one among a number of people who, effectively, were his students. Quite simply, it would be impossible to be around Art even as a colleague without learning from him....The striking feature of Art as the teacher is that he is... utterly devoted to the idea that you, the student, learn."
ICES Principal Research Scientist Eswaran Subrahmanian, praises Westerberg as "a scientist, an engineer and a quintessential pragmatist" who brings "to teaching a challenge, adventure and innovation that never stops. He is a paradigmatic teacher who is dedicated to teaching his students the ability to accept criticisms and continuously refine their ability to address them."
"The greatness of universities like Carnegie Mellon," said the nomination letter signed by professors John Anderson, Ignacio Grossmann and Pradeep Khosla, "can be traced to distinguished professors such as Art Westerberg.... He is the reason that Carnegie Mellon holds a leading international position in design—in teaching and curriculum development at all levels, and in multidisciplinary pursuit of equilibrating art and science in the design process.... His impact on education in design is without parallel."
Grad Students Cited for Teaching, Service
Dirk Schlimm, a Ph.D. student in the Department of Philosophy, and Sarah Pressman, a third-year grad student in the Psychology Department, received this year's Graduate Student Teaching and Service Award, respectively.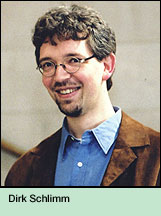 The teaching award recognizes exemplary teaching in a number of settings, including classrooms, labs and studios. The service award honors a student who has advanced the interests of students, improved the quality of life for grad students on campus and contributed to the larger academic and surrounding community.
In his six years with Philosophy, Schlimm has been a teaching assistant for five different courses, taught three courses by himself and has taken at least a dozen seminars at the Eberly Center for Teaching Excellence.
Students find him accessible, engaging, funny and able to teach the material in a captivating way. Richard Scheines, associate head of Philosophy, said that Schlimm is "by far, the best teaching assistant/instructor we have had in the 17 years of the Philosophy Department's existence." He called him "a remarkable individual with truly wonderful dedication to teaching."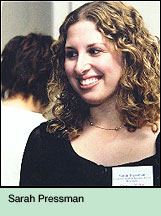 As the vice president for graduate student life on the executive committee of the Graduate Student Assembly (GSA), Pressman has organized events ranging from white water rafting to nights at the Pittsburgh Symphony and plans numerous annual events. She also coordinates a barbeque cookout to welcome new students each fall and interdepartmental/college events that allow graduate students to mingle on campus.
"Sarah's unfailing enthusiasm and creativity has helped her not only dream up new and interesting activities for graduate students, but also to expand and refine traditions that had been established before her tenure," said Kimmaree Murday, the 2002 GSA president. "Thanks to Sarah's efforts, more and more graduate students are getting the information they need to make connections and lead a more balanced life."
Top
Ed Delaney