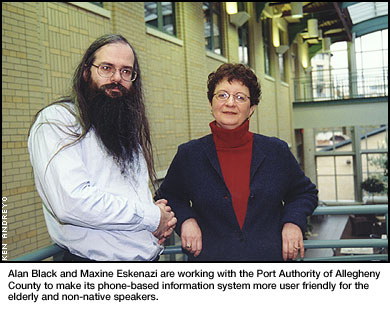 University News Briefs
Language Technologies Experts Get NSF Grant to Help PAT's Phone-Based Information Systems
Scientists at the Language Technologies Institute (LTI) in the School of Computer Science have received a $650,000, three-year grant from the National Science Foundation (NSF) to work with the Port Authority of Allegheny County to make its phone-based information services more user friendly for elderly and non-native speakers.
Systems Scientist Maxine Eskenazi, and Research Computer Scientist Alan Black will be working with the Port Authority to build a scheduling information system that will enable these users and others to obtain bus and light rail schedules any time, day or night.
The project, called "Let's Go," will explore how to make messages relayed over the telephone more understandable to the elderly while also looking at how to better understand non-natives when they speak.
In preliminary studies, Eskenazi and Black found that elderly listeners have a better grasp of information when their attention is attracted by the system before it begins to speak. It appears that as people age, they are less able to concentrate on more than one thing at a time. Thus, the system they build will be designed to attract and keep the attention of the elderly caller.
Issues with non-native speakers are somewhat different, Eskenazi noted. "When non-native speakers talk into the machine, it doesn't understand anything they say because their accents and pronunciation are so different. We need to train the system to understand their pronunciation and, because they don't know the English vocabulary, we need to detect where they're using incorrect grammar and, in a subtle way, show them how to use it correctly."
In addition to Port Authority experts, Eskenazi and Black will be working with LTI colleagues, including Senior Research Scientist Lori Levin, Visiting Scientist Rita Singh and graduate students Antoine Raux and Brian Langner.
New Technology Created to Improve Respirator Masks
Associate Professor of Electrical and Computer Engineering Gary Fedder and his research team has received an initial $190,000 grant from the U.S. Centers for Disease Control and Prevention's (CDC) National Institute for Occupational Safety and Health (NIOSH) to create new technology that will determine when filters in respirator masks are nearing the end of their effective life.
The improvements would help rescue and emergency service providers to identify filters that may no longer provide adequate protection against hazardous gases, fumes and vapors.
"Although there has been a longstanding need for determining how best to monitor the lifespan of these cartridges, the need became even more prominent with the World Trade Center rescue and recovery effort, when respirators served as a critical purpose for worker safety and health," said Richard Metzler, director of NIOSH's National Personal Protective Technology Laboratory.
CAMT Creates Arts and Culture Observatory
The Heinz School's Center for Arts Management and Technology (CAMT) has received grants from The Heinz Endowments, the Pittsburgh Foundation and the Pennsylvania Council on the Arts to establish a comprehensive database for arts organizations in southwestern Pennsylvania.
The observatory will issue a number of reports each year on the state of the arts and culture in southwestern Pennsylvania. The goal is to provide timely and relevant information to help strengthen and inform planning, programming, management and fund-raising decisions.
"These annual reports will present detailed analyses of the general conditions," said Dan J. Martin, associate professor and director of CAMT. "They also will provide arts leaders with comparative data and analysis specific to their own organizations and arts disciplines."
The observatory will also collect information on related industries, including movie theater activity and attendance, commercial live-entertainment venues, such as amphitheaters, clubs, commercial theaters and touring productions, and leisure attractions, such as amusement parks, festivals and sporting events.
Edna Neivert, executive director of the observatory, is a 1996 graduate of Carnegie Mellon's Master of Arts Management program and a magna cum laude graduate of Yale University.
Center Assists Regional Arts Organizations
The Center for Arts Management and Technology has selected The Bach Choir of Pittsburgh, Calliope House, Inc., Phipps Conservatory and the Pittsburgh Chamber Music Society to participate in INTER-Art, a Web database project funded by a grant from The Heinz Endowments.
Through the INTER-Art project (Initiating New Technology and E-Resources in Art), CAMT will provide regional arts and culture organizations with Web database solutions to help them develop stronger bonds with their members, patrons, students and audiences.
The Bach Choir of Pittsburgh plans to develop an online class registration system to be used for their Summer Choral Institute. Calliope House, Inc. and Phipps Conservatory plan to enable an online service for class registration, membership and donations. The Pittsburgh Chamber Music Society's project will create online interactive music activities for use with local middle schools.
$1.9 Million Hewlett Grant Supports New Web-based Courses
Carnegie Mellon has received a three-year, $1.9 million grant from the William and Flora Hewlett Foundation to develop and deploy four Web-based courses in statistics, causal reasoning, economics and logic. To be provided free to individual users on the Internet, the finished courses will also be available, for a small access fee, to colleges and high schools that wish to offer them for credit.
The courses include Formal Logic and Causal Reasoning with Statistical Data, both already developed, as well as Introductory Microeconomics and Introductory Statistics, which will be produced next.
"Our goal here is not to replace all college education with online courses, but rather to explore what can be done with introductory classes, which are usually large-lecture format to begin with," said Joel Smith, vice provost for computing services.
"By supporting the development of courses of the highest quality, and by making them readily available on the Web, the Hewlett Foundation and Carnegie Mellon hope to raise the benchmark for others creating online learning environments," said Marshall Smith, education program director at the Hewlett Foundation.
"Carnegie Mellon is well positioned to push the envelope on this 'next generation' of courses as it combines the talents of distinguished faculty with decades of experience in cognitive science and top-notch technological expertise," Marshall Smith added.
Meltzer's New Book Praised by Greenspan
University Professor Allan Meltzer of the Graduate School of Industrial Administration is the author of the new book, "A History of the Federal Reserve, 1913-1951."
The period covered in the book's more than 700 pages includes the creation of the Federal Reserve, the financing of two World Wars, the prosperity of the 1920s, the great Depression and the start of the Korean War. The volume ends with the beginning of the modern era of central banking in the United States, when the Treasury-Federal Reserve Accord freed the Federal Reserve System from Treasury control.
"Allan Meltzer, who undertakes projects that to most appear daunting, has delved deeply into the history of the Federal Reserve System, with a result that will add substantially to the discourse on the institution's role and development," said Federal Reserve Board Chairman Alan Greenspan in the book's foreword. "He has reviewed the records of policy discussion at an extraordinary level of detail, and his analysis illuminates the contributions of the many fascinating individuals who shaped the Federal Reserve System we know today."
Developing "Smart" Cars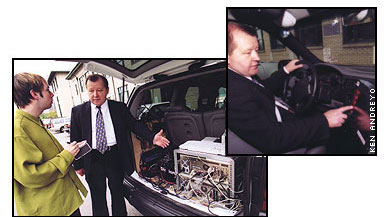 Asim Smailagic, senior researcher at the Institute for Complex Engineered Systems, demonstrates a "smart" van researchers are developing in the General Motors Lab in the Electrical and Computer Engineering Department. The van is equipped with technology that reacts to voice and touch commands that operate the vehicle's navigation system. The vehicle includes a finger print and eye identification system that allows only the owner to start and operate the vehicle.
Successful Groundhog Day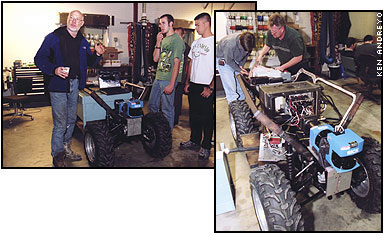 Graduate students in the Mobile Robot Development class, taught by William "Red" Whittaker (left), the Fredkin Research Professor in the Robotics Institute, and Systems Scientist Scott Thayer, have created "Groundhog," a mine-mapping robot designed to autonomously map abandoned, hazardous mines. Groundhog made a successful trial run into an abandoned coal mine near Burgettstown, Pa., in late October. The robot used laser rangefinders to create an accurate map of about 100 feet of the mine. Abandoned coal mines and the need for accurate maps gained international attention last summer as a result of the Quecreek Mine accident in Somerset County.
Creating Software for Security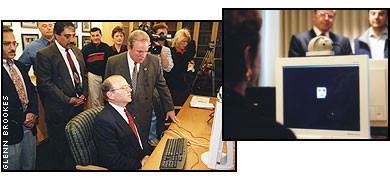 Above, President Jared Cohon (seated) and Pennsylvania Representative Mike Doyle (D-18th District) view the face recognition technology (right) being developed at the new Center for Communications and Computer Security (C3S) during a recent press gathering announcing the center's opening. The C3S, which has received a $35.5 million, five-year grant from the Defense Department, is developing leading-edge software that could be used to thwart Internet attacks. Professor Pradeep Khosla (far left), head of the Electrical and Computer Engineering Department, is the center's director.
A Breathtaking Experience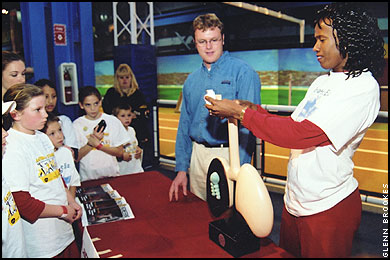 By using a lung simulater, mechanical engineering student Peter Castelli (above middle) shows Olympian Jackie Joyner Kersee (right) and several elementary school students how asthma affects its victims during a special event at the Carnegie Science Center. The demonstration was part of the the recent Breathe E-z Walk & Games, sponsored by the American Respiratory Alliance of Western Pennsylvania. Kersee, who suffers from asthma, attended the event to promote asthma awareness.
Top
Susan Cribbs