Martin Luther King Day Celebration Set for Jan. 20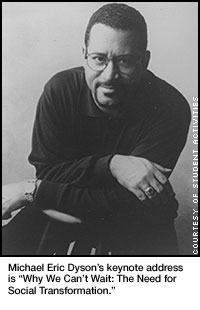 Carnegie Mellon's annual celebration of the life and work of Dr. Martin Luther King Jr. will be held from 12:30-6:30 p.m., Monday, Jan. 20. Classes are cancelled from noon-4:30 p.m. that day to allow students, faculty and staff to participate in the programming.
President Jared Cohon will begin the events at 12:30 p.m. in Rangos Hall with his annual state of diversity address. The president, chairman of the university's Diversity Advisory Council, will review the progress Carnegie Mellon has made toward its strategic goal of increasing diversity across campus. He will also outline next steps in the process.
Following the president's talk, winners of The Martin Luther King Jr. Day Writing Awards will read their entries. The awards, sponsored by the Creative Writing Department, are presented to students from local high schools and Carnegie Mellon who have submitted creative works and personal narratives describing their experiences with racial difference and discrimination.
A Community Conversation, featuring several panelists including Vice Provost for Education Indira Nair and Mellon Professor of History Joe Trotter, will run from 2:35-3:40 p.m. Nair and Trotter, head of the History Department, will talk about Dr. King's "Seven Principles of Non-Violence."
Individuals from the campus community will express their feelings about civil rights and diversity through artistic performance in the Community Collage from 3:45-4:25 p.m. in Kirr Commons.
At 4:30 p.m., members of the university community are invited to participate in a candlelight procession from the Purnell Center for the Arts to the University Center, where Michael Eric Dyson will deliver the keynote address, "Why We Can't Wait: The Need for Social Transformation," at 5 p.m. in Rangos Hall.
Dyson, a scholar, author and ordained pastor, is widely recognized for his insight into urban black popular culture. His books include "Making Malcolm: The Myth and Meaning of Malcolm X," which was selected as a notable book by The New York Times, and "I May Not Get There With You: The True Martin Luther King Jr.," a national bestseller that was nominated for the NAACP Image Award. Dyson writes a weekly column for The Chicago Sun-Times.
Susan Cribbs