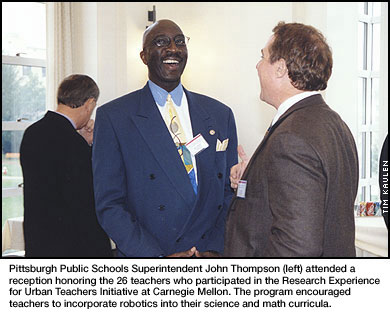 Robotics Experts Share Knowledge with Local Teachers
The use of robotics as a tool to engage students and teachers in science was the focus of the Research Experience for Urban Teachers Initiative (REUTI), a program at Carnegie Mellon and Johns Hopkins University that gave teachers a firsthand look at building robotic systems to enhance their curricula. Twenty-six teachers from the Pittsburgh Public Schools participated in the program. Nine worked in specific disciplines, such as "green" chemistry, biological agents, geology, water quality and tissue engineering.
Carnegie Mellon and Johns Hopkins, the only two institutions nationwide to conduct the program for teachers, funded the effort through grants from the National Science Foundation (NSF).
Indira Nair, vice provost for education and one of the planners of the program on campus, said REUTI builds on the Research Experience For Undergraduates (REU) initiative sponsored by NSF.
"We modeled the program after the REU since we wanted to give the teachers a sampling of the entire research experience in a short period of time," said Leigh Abts, creator of REUTI and coordinator of the Johns Hopkins program. "We also wanted to organize, if possible, the teachers into teams that represented math, science and technical education."
Pittsburgh teachers were involved in research training one night a week for 10 weeks, and they learned important concepts such as laboratory safety. Lectures and seminars were given by Gary Fedder of the Electrical and Computer Engineering Department, Jim Osborn from the Medical Robotics and Information Technology Center, and John Bares, director of the National Robotics Engineering Consortium (NREC.)
Many of the Pittsburgh teachers worked with Robin Shoop, director of educational outreach at the NREC in Lawrenceville.
"The mission of Carnegie Mellon's Robotics Academy is to use the excitement and motivation of robotics to inspire a larger number of children to pursue careers related to math, science and technology," Shoop said. "When Indira and Leigh approached me about leading a research team of teachers who were interested in studying robotics so they could learn more about math and science, it was a perfect fit."
Shoop's teachers worked on a number of projects, including developing a robot with a vision system, sensors and a remote control, which will be used at Carnegie Mellon's robotic challenge later this year. The challenge will replicate the Mars missions, and the teachers will be able to bring their findings and work back to their classrooms in the fall. Another team of teachers is involved with the development of a series of instructional tools that help others learn programming.
"It was inspirational to see the amount of effort the teachers have put into this project," Shoop said. "They saw REUTI as an opportunity for them to learn new concepts and at the same time generate instructional content they can take back to their classrooms."
In early August, the teachers traveled to the Smithsonian in Washington, D.C., to present their research and findings. The experience prompted Colin Horwitz, senior research scientist in the Chemistry Department, to write a letter to Pittsburgh Public Schools Superintendent John Thompson.
"It was a tremendous learning experience for me to interact with them, and I believe that they have benefited greatly from the interactions with our research group," Horwitz wrote.
This past October, all 26 teachers were recognized at an awards ceremony at Carnegie Mellon. "It's an important event for Carnegie Mellon University and Pittsburgh," said President Jared Cohon. "We've taken the best of Carnegie Mellon and put it at the service of the Pittsburgh Public School System." Cohon also highlighted the university's focus on research. "Here at Carnegie Mellon, we're equally committed to creating new knowledge as well as education."
Thompson was also at the ceremony to recognize and congratulate his teachers. "You are all lifelong learners," he said.
A representative from Pennsylvania Representative Mike Doyle's (D-18th District) office presented each teacher with a plaque. A copy of the text from that plaque has been entered into the Congressional Record.
"Their efforts," read part of the text, "will help our students become the top scoring in the world."
Top
Laine Towey