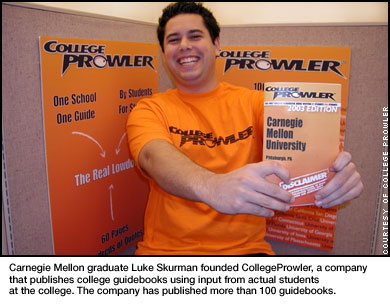 CollegeProwler Gives Prospective Students the Inside Scoop
Each year high school juniors and seniors go shopping for the "right" college, one that best meets their academic interests, and one that they feel will best prepare them for their future career. They tackle the massive college guidebooks, tour several campuses and talk with admissions counselors.
But, what they don't often get is an honest insider's perspective... until now.
CollegeProwler, a company founded by Luke Skurman, a Carnegie Mellon graduate who earned his bachelor's degree in business administration last spring, produces college guidebooks that give high school students the "inside scoop" on colleges and universities from students themselves.
CollegeProwler publishes 50-60 page guidebooks for the top-ranked national and regional schools in U.S. News and World Report magazine's annual college rankings. The guides use student input to report on topics such as academics and teachers, parking, Greek life, housing options, food, safety and diversity.
"I enjoyed visiting college campuses as a prospective student," said Skurman, a San Francisco native, "but I felt that I formed an incomplete picture of what life was really like at these schools."
The insider's opinion is a hot commodity. The startup company has received requests for the guidebooks from guidance counselors, students, and parents.
This past September, Skurman and the CollegeProwler staff, fellow Carnegie Mellon graduates Joey Rahimi and Christopher Mason, and Christina Koshzow, a Carnegie Mellon graduate now studying at the Heinz School, traveled from Pittsburgh to Salt Lake City to officially launch their company at the National Association for College Admission Counseling (NACAC) Conference. They left the conference with more than 700 business leads, including those from college admission staffs, high school guidance counselors and major publishers.
Today, the company offers more than 100 college guidebooks for purchase on its Web site at www.collegeprowler.com. The guidebooks sell for $5.95.
So what's the inside word on the overall experience at Carnegie Mellon?
"I love Carnegie Mellon," said one insider. "Sure, there are minor things that I may dislike from time to time-things that you will find at any school-but after coming here, I cannot imagine going to any other school. This was the school for me because of the intense program. However, this is not the place for everyone. It's difficult to come here without having a sense of what you want to study.
"Everyone here in every academic program is highly focused. I'd say most students are very hard workers and really care. That's why it is such a good place for me; everyone is enthusiastic about his or her education. I really think this school is a great place, but you probably won't know for sure until you get here, I surely didn't."
CollegeProwler started as a class project in an undergraduate entrepreneurship class in the fall of 2000. The project grew to include co-founders Rahimi, Koshzow and Jason Putorti from the University of Pittsburgh. Other contributors include Evan Gealy, a senior in the College of Fine Arts, and Jason Lin and Hem Wadhar from the University of Pennsylvania.
In addition to its burgeoning popularity among its target audience, CollegeProwler has won awards at Carnegie Mellon and in Pittsburgh. CollegeProwler won Carnegie Mellon's 2002 Undergraduate Entrepreneurship Association's Business Plan Competition and received $500 from the School of Industrial Administration. Accountant Ernst & Young's Enterprise Creation Competition named CollegeProwler as one of the top nine national finalists.
Skurman was named the Canfield Roseman Entrepreneur of the Year by the School of Industrial Administration. He was the youngest winner ever to be named a "Changemaker" by the Pittsburgh Business Times.
Top
Kathleen Anne Fischer