Dana Vinson Tours with Papa Roach, Appears on MTV by Winning Ultimate SPIN Essay Contest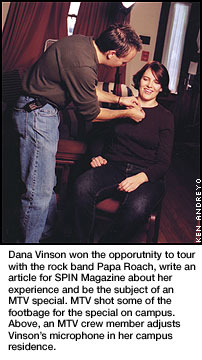 Dana Vinson's plan to attend law school may have suddenly taken a backseat to pursuing a career as an entertainment writer.
The junior ethics, history and public policy major's possible change of heart is a result of her writing the winning essay in SPIN Magazine's "Ultimate SPIN" contest. Her essay was about her favorite rock band, Weezer.
As the contest winner she won the right to "hop on the hottest tour of the summer" for three days with the rock band Papa Roach on its Anger Management Tour; was the subject of a 30-minute special on MTV; and had her article about the tour published in the December issue of SPIN.
After MTV television crews arrived at her home in Hudson, Ohio, this past August to notify Vinson that she won, she was whisked away to Phoenix to begin her journey on the Papa Roach tour.
"If I hadn't been on camera, I would have been catatonic," she said. Vinson spent three days on tour with the band, observing their backstage antics, watching their live sets and performing one-on-one interviews with each band member. MTV production crews followed her to shoot footage for the network's special on Vinson.
Vinson said her parents had some reservations about their 20-year-old daughter "being kidnapped by rock stars. But they're both really proud of me."
The "Ultimate SPIN" special airing on MTV documents her foray into the life of a music reporter from the moment she discovered she was the winner until the day the magazine hit newsstands.
Part of the special was videotaped at Carnegie Mellon in late October. A director and producer from MTV spent a day on campus with Vinson, shooting footage of her purchasing the new issue of SPIN at Jay's Bookstall in Oakland and working in her dorm room. They also videotaped an interview with her that summarized her entire experience.
Going on tour with a popular rock band, having her own 30-minute special on MTV and winning praise for her SPIN article from people in the music industry have given Vinson much to consider as she nears the end of the first semester of her junior year.
She has always wanted to be a writer, but it was never a career path that she considered... until now.
"I'm fighting with what to do next, whether to continue on with [law] school or get a job. I want to capitalize on this opportunity the best that I can," she said.
Susan Cribbs