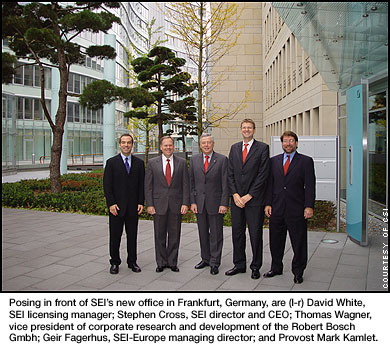 Carnegie Mellon's SEI Opens Office in Frankfurt, Germany
New Location Will Benefit European Users of SEI Technologies
Carnegie Mellon's Software Engineering Institute (SEI) has opened an office at An der Welle 4 in central Frankfurt, Germany, in response to strong European demand for the development of products based on quality software. SEI-Europe, in partnership with its licensees, will provide training, knowledge and research to support software development.
Carnegie Mellon Provost Mark Kamlet said the opening of an office in Europe enhances Carnegie Mellon and the Software Engineering Institute's ability to serve its European research customers and technology licensees.
"By expanding our borders internationally, Carnegie Mellon is positioned to provide top-tier educational resources, and research and development opportunities," Kamlet said. "The office in Europe serves as an important gateway for us and embodies the principles of education and training on which Carnegie Mellon was founded."
Stephen E. Cross, chief executive officer of the SEI, stated that European industrial users, licensees and research partners will be better able to adopt the institute's advanced software engineering practices.
"Over the past five years, Europe has grown to be a very strong commercial-user community in the usage of new SEI technologies," Cross said. "This office demonstrates our commitment to our diverse European stakeholders, licensees, industry users and academia."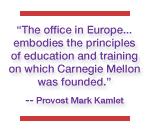 The SEI-Europe office will promote the institute's commitment to quality software development through public course offerings, colloquia and meetings, as well as university-level courses. The public courses, which include courses about Capability Maturity Model Integration (CMMI®), support the adoption and transition of SEI technologies. Most important, European organizations licensed by the SEI as transition partners, along with SEI staff and visiting scientists, will deliver these courses to key European industries, such as aerospace, automotive, automation, telecommunications and finance.
Heading the SEI-Europe office is Geir Fagerhus, founder and former chief executive officer of Q-Labs, a leading international professional services company specializing in software engineering practices.
"Our vision is that European users of SEI practices routinely deliver the right software, defect free, on time, on cost, every time," Fagerhus said. "Quality software is industry best practice. Quality software is software that always works."
Born in Karlsruhe, Germany, Fagerhus holds a bachelor of science combined honours degree in physics and computing science from the University of Glasgow, Scotland, and now lives in Sweden. Prior to leading Q-Labs, Fagerhus worked with advanced, software-intensive communication products for air traffic control, holding positions first in development and later in management and customer support at Ericsson. He is also a member of the Institute of Electrical and Electronics Engineers and the International Software Engineering Research Network.
Founded in 1984, the SEI core purpose is to help organizations make measured improvements in their software engineering capabilities by providing technical leadership to advance the practice of software engineering. Internationally recognized for CMMI and the CERT® Coordination Center, the United States' first and best-known computer emergency response team, the SEI works with industry and government communities to identify, mature, transition and facilitate the broad adoption of new and improved software practices. In addition to the Frankfurt office, the SEI has offices in Arlington, Va.; Denver, Colo.; and Huntsville, Ala.
Top
Kelly Kimberland