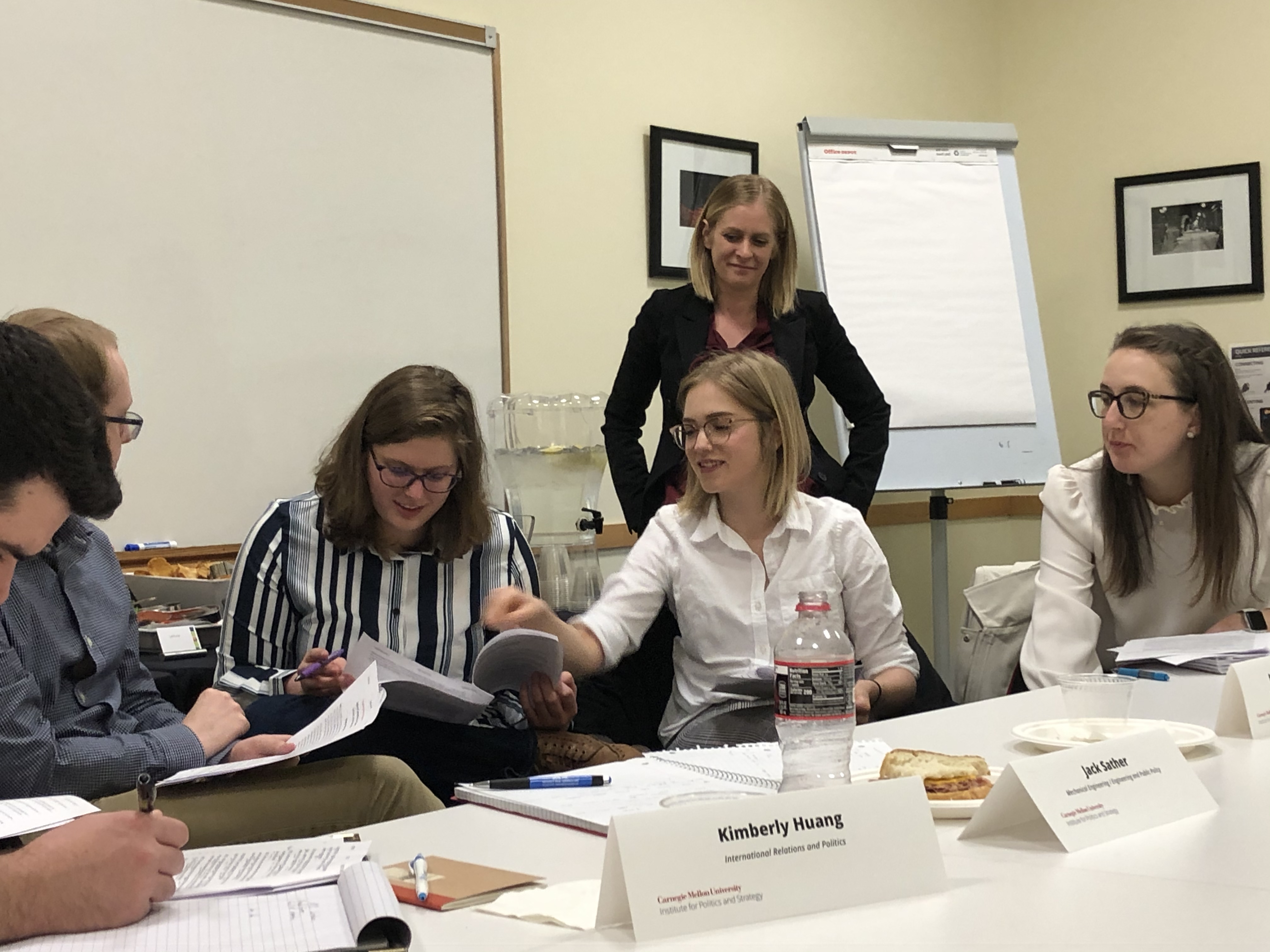 February 27, 2020
Separating signal from noise: IPS students participate in an NCTC intelligence simulation
By Bill Brink wbrink(through)andrew.cmu.edu
It's October 2016. The Chicago Cubs are in the playoffs, and Wrigleyville figures to be packed. Lady Gaga and Pitbull are performing in Miami. Warriors of the Islamic Caliphate (WIC), a radicalized militant group, is quickly spreading throughout the Middle East, Africa and Western Europe.
It doesn't want to control territory. It just wants to attack the West.
"When we look at threats, we are looking at intentions and capabilities," a member of the National Counterterrorism Center (NCTC) tells her analysts. "What do they want to do, and are they capable of doing what they want to do?" 
Warriors of the Islamic Caliphate does not exist. The "analysts" are Institute for Politics and Strategy students, spending lunchtime at an NCTC simulation designed to mirror the challenges the intelligence community faces in separating signal from noise. Although a fictional exercise, the NCTC campus recruiter facilitating the simulation (whose name is being withheld) made the event feel real.
"This isn't the fight that people were fighting in 2000 or even in 2006," she told the students Tuesday at the IPS event in the Cohen Center's Dowd Room.
"The single greatest structural cause for the September 11th problem was the wall that segregated or separated criminal investigators and intelligence agents," Attorney General John Ashcroft told the 9/11 Commission in April 2004. "Government erected this wall, government buttressed this wall, and before September 11th, government was blinded by this wall." Out of the 9/11 Commission's recommendations later that year came the NCTC, tasked with both integrating analysis and coordinating information sharing, and reporting its findings to both the office of the Director of National Intelligence and the President.
As a recruiter for a relatively small agency, she needs to make sure she finds the right people, including those with quantitative and analytical skills.
"It is not by accident that NCTC wanted to come to CMU," the NCTC facilitator said. "We know that you guys have some really, really great instruction."
The NCTC is looking for analytics help, but that's not the only desirable trait. The recruiter also noted a need for candidates who are passionate and intellectually curious. 
To illustrate the work the NCTC does, the simulation provided the eleven students in attendance with mock briefing books containing newspaper headlines, reports from "sources in the field" and law enforcement actions.
The students were divided into two groups, one to determine WIC's intentions -- attack a baseball game, a concert, something else entirely, etc. -- and the other to analyze its ability to carry them out. In reality the analysts would have a little more info: dates, background information on sources. But for an afternoon, the students got a taste of the high-stakes analysis used to combat terrorism world-wide.