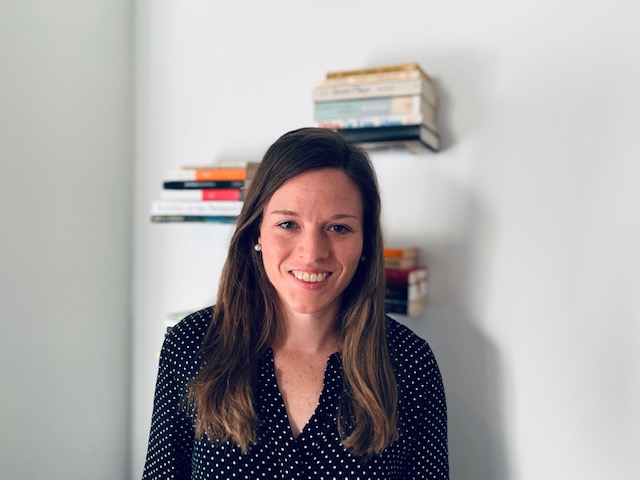 April 16, 2020
Meghan Mattern brings USAID experience to the Institute for Politics and Strategy
By Bill Brink wbrink(through)andrew.cmu.edu
In 2013, while Meghan Mattern attended Harvard University's Graduate School of Education, she had the opportunity to work part-time. She did so as a college advisor at Codman Academy Charter Public School in Dorchester, a neighborhood south of Boston.
"That was my first foray into student affairs and advising," Mattern said, "and I loved it."
After two stints working for the United States Agency for International Development (USAID) and companies with which USAID contracted, Mattern drew upon her appreciation of the collegiate advising role, and in March joined the Institute for Politics and Strategy as the program manager of the Washington Semester Program. The job combines her skills, experiences, and interests: government and international relations, and collegiate advising. She supports the academic, personal, and professional development of students participating in the program.
Mattern worked in several Bureaus at USAID, an agency created by President John F. Kennedy in 1961 to lead the US government's international development and humanitarian efforts. She knew she wanted to work in development early on: She attended Calvin University in Grand Rapids, Michigan, because it offered international development as a major.
She considered dividing her studies between international development and one of the sciences, possibly biology or pre-med. Then she spent January of her sophomore year studying in Tanzania.
"[I] just loved that experience, and learned so much, and I got to study the language," Mattern said. "When I came back from that trip, it was like, this is definitely what I want to do, and I switched full-time to that track."
Mattern knew she wanted to move to Washington, DC after graduating in 2009, but the job search went slowly in the wake of the financial crisis, so she networked. She emailed alumni – "The same things we tell our students to do here" – and eventually connected with a recruiter at Management Systems International, a development firm which contracts with USAID, and got an internship.
"I was on a project that was in South Sudan," Mattern said. "I did all kinds of [administrative] stuff, basically what an internship generally entails, so I helped them with recruiting, I helped them with budget tracking, all that stuff. It was a really nice foot-in-the-door kind of thing because I hadn't learned any of those skills in class at college. It was my first sort of project-management experience."
That experience proved invaluable. While interviewing for a job at USAID, Mattern knew the subject matter, the acronyms, and how things worked. She got a job through a staffing contract with International Resources Group, moving from administrative assistant to program specialist in the USAID Asia and Middle East bureaus in a little more than three years.
"It was fine to be a generalist and know a little bit about everything, but to move up and get promoted and get to do more field work, you really had to focus on a specific area," Mattern said. "Through my work there, I just realized that my passion was international education, and so I talked to a bunch of people in my office who worked in the education sector and they all said, 'You have to go to Harvard.'"
So Mattern applied, and was accepted, to Harvard's Graduate School of Education, and enrolled in the fall of 2013.
"It was one of the best years of my life," she said. "Just being focused on that thing that I'm really passionate about without other distractions."
After receiving her Master of Education in International Education Policy in 2014, Mattern joined Creative Associates International, an overseas trade and development organization. When she was hired, first as a consultant before becoming full-time a few months later, Creative was implementing the Nigerian Education Crisis Response project, which provided nonformal education opportunities to students displaced by the Boko Haram insurgency. They had also just won a USAID project called the Northern Education Initiative +, which focused on providing increased access to basic education for students in two northern states. Mattern was assigned to support both projects.
"I was spending most of my time in Nigeria. Just getting it set up and starting up a new project like that is, as you can imagine, a lot of work," Mattern said. "I did that for a while, a little over a year just traveling back and forth all the time. And then I was recruited by Dexis Consulting Group, who holds a staffing contract with USAID's Office of Education, to come back to their office of [education] in conflict."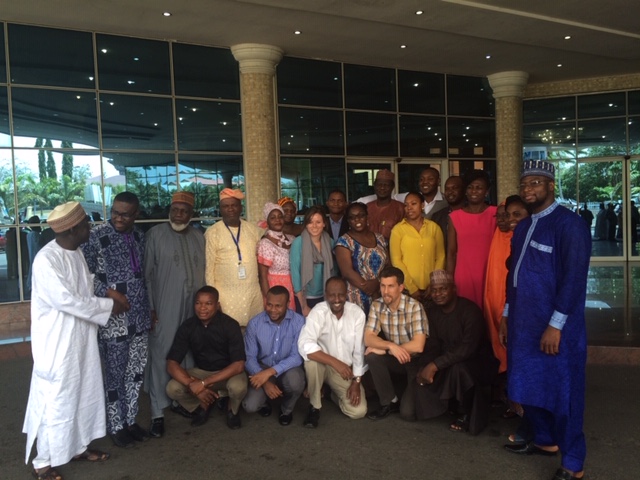 Back at USAID, Mattern felt that her judgment was correct: A graduate degree was crucial. She worked in the Office of Education on the Education in Crisis and Conflict team, which aligned with what she had studied.
"I just felt like I could contribute a lot more and I had a lot more opportunity to speak up and write and do all kinds of things, because I did have this technical experience in the sector that I didn't have the first time," she said.
The move to Carnegie Mellon was not entirely random. Mattern grew up in Ligonier, Pennsylvania, about 50 miles east of Pittsburgh. Her grandfather, Gerry Mattern, is an Adjunct Professor at Carnegie Mellon's School of Architecture and Civil and Environmental Engineering. When she was young, she attended the university's C-MITES program, a hands-on learning experience for talented youth.
In her role as program manager for the Washington Semester Program, which allows students from any course of study at Carnegie Mellon to live, intern, and study in the nation's capital, she advises and assists with internship searches and applications, serves as a resource for living and working in Washington, DC, and maintains partnerships with intern-hosting organizations.
"When I started brainstorming about what my next steps might look like after USAID … I started to think about, what are the experiences that I've really enjoyed when I had a job? And one of those was this role as a college advisor," Mattern said. "And then I saw this job come up in January, which was advising, but also needed somebody who had had government and international relations experience. That sounds kind of like a nice fit."