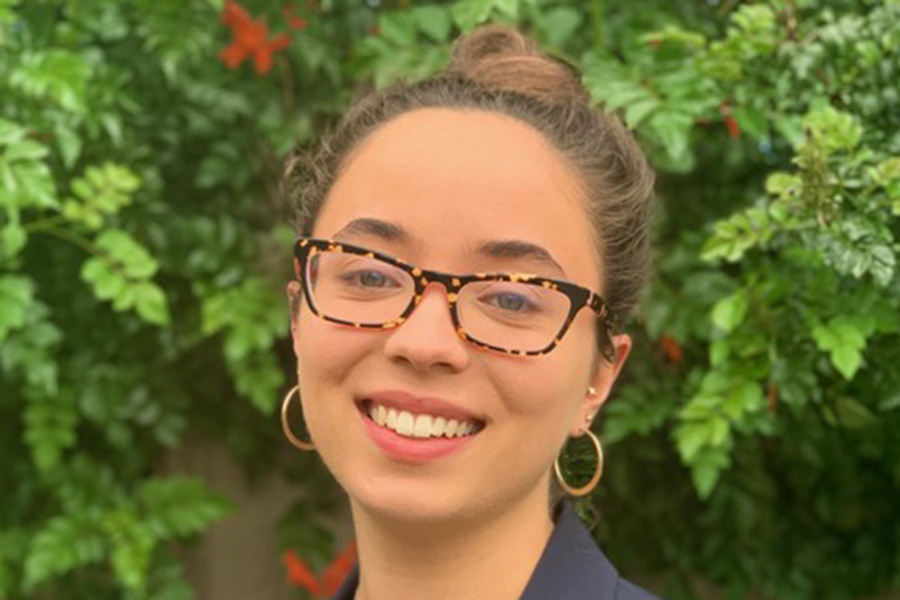 October 04, 2021
Internship Spotlight: Catherine Cockrell
By Bill Brink wbrink(through)andrew.cmu.edu
As an Economics and Politics major who has always been drawn to national security, Catherine Cockrell certainly followed the United States' military withdrawal from Afghanistan this summer. Then, during her summer internship at the Defense Intelligence Agency, she shared a cubicle with a veteran of Afghanistan who opened her eyes to new perspectives.
"It's such a completely different side of national security than you see from the outside," said Cockrell, a senior in Carnegie Mellon University's Institute for Politics and Strategy who is also minoring in Cybersecurity and International Conflict. "National security decisions are so convoluted and complex. Often, it's portrayed in the media as, these decisions are very black and white. [They're portrayed as if] there was a right and there was a wrong, and these things are very easy. It's given me a whole different perspective on that."
Cockrell was born in Missoula, Montana, before moving to the United Kingdom, where her mother is from (she heard about Carnegie Mellon from a cousin who studied Business Administration here). She applied for the DIA at the beginning of her sophomore year. Her security clearance took eighteen months: After a 150-page form, a four-hour polygraph, and a psychological evaluation, she received her clearance, only for the pandemic to push her internship back a year.
She ended up working with the DIA's finances, both in their career development office and the financial programming department.
"A lot of future planning, looking at what money that directorate wants, what they want it for, communicating agency priorities to the Department of Defense leadership, intelligence community leadership, and also to Congress," Cockrell said. "They put together reports, they field congressional staffer questions, they liaise with the Directorate of Intelligence. 'Why do you need this money, why did it change from last fiscal year, how have your priorities changed from perhaps the war on terror to perhaps great-power competition, how is that reflected in the finances.'"
Cockrell would like to explore a full-time job in the intelligence community after graduation, preferably one more directly related to the intelligence-gathering mission. She is interested in the DIA's overseas deployment opportunities, and now that she has her security clearance, she can explore what the IC has to offer. 
"I'm just trying to put all the pieces together and understand the mission and … the different employment opportunities that are available across the whole organization," she said. "I think another thing I've learned is how mission-focused it is. Often in the private sector, your job is so focused on your career goals and what you want to do. In something like the DIA, it's much bigger than that, much bigger than the individual."