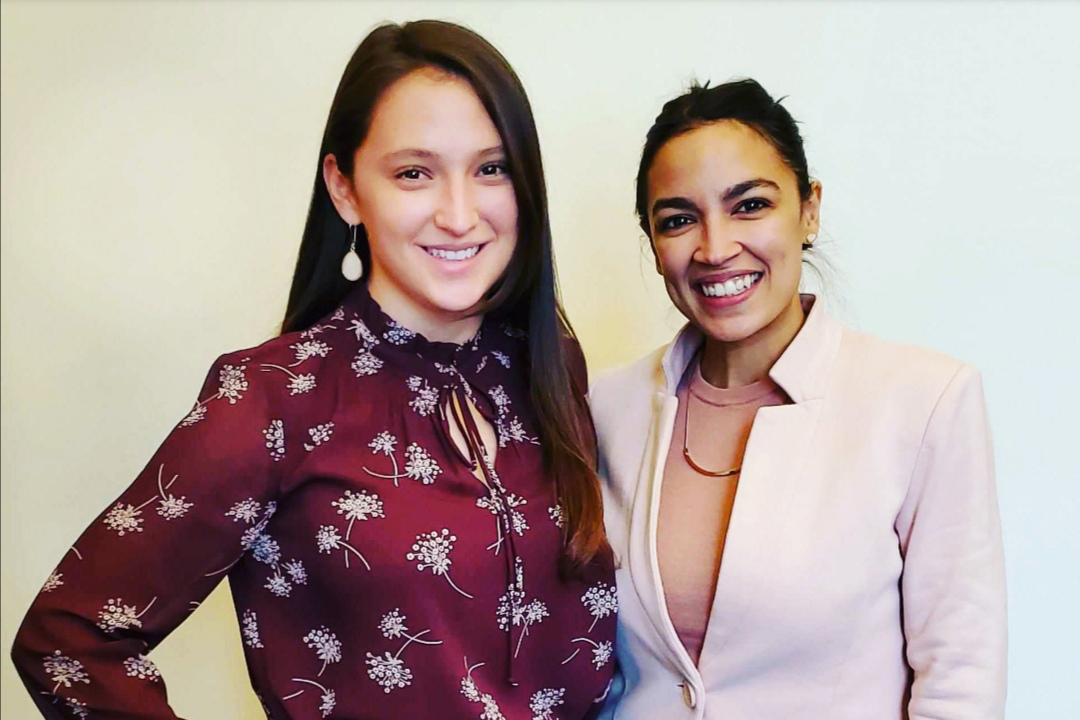 March 12, 2021
The Green New Deal and birthdays with AOC: A Q&A with Gisselt Gomez
Gisselt Gomez graduated from Carnegie Mellon in 2020 with a major in Architecture and a minor in Politics and Public Policy. She is currently pursuing a Master's Degree in Public Policy and Management from CMU's Heinz College of Information Systems and Public Policy. She participated in the Carnegie Mellon University Washington Semester Program in the fall of 2019 and interned in the office of Congresswoman Alexandria Ocasio-Cortez.
Bill Brink: How did you choose Congresswoman Ocasio-Cortez's office as a place you wanted to intern, and how did you get the position?
Gisselt Gomez: My internship with the Office of Congresswoman Ocasio-Cortez was completed during Fall 2019 as part of my undergraduate minor in Politics and Public Policy, which required an internship and semester of coursework in Washington, DC.
Prior to beginning my internship at Congresswoman Ocasio-Cortez's office, I was a summer intern at an environmental policy research consortium called The Climate Institute in Washington, DC Unfortunately, this position was unpaid and, as I would learn with time, not an ideal fit for my professional ambitions (note: the summer internship at The Climate Institute was funded partly by CMU's very own Friedman Fellowship, thank you for the support!). The semester after that summer, I was scheduled to remain in DC for the Washington Semester Program and I knew that an unpaid position was not sustainable for me long-term, and that I could find an internship opportunity that would better suit my professional ambitions. So, while still working full-time at The Climate Institute I started looking for a fall internship and applied to several places around town, one of which was Congresswoman Ocasio-Cortez's office.
The bulk of my work at The Climate Institute focused on energy and environmental policy, two fields that were relatively new to me at the time given my academic background in architecture and limited professional experience. I welcomed the opportunity to pursue professional opportunities that would allow me to expand my knowledge on energy and environmental policy so, perhaps unsurprisingly, I was drawn to the Congresswoman's office given her advocacy for the Green New Deal. What might be surprising, as it certainly was to me at the time, was that out of the several places I applied to, the Congresswoman's office was the only place I had heard back from by the end of the summer.
I am often asked how I got the internship and have yet to understand how best to answer that question. From the outside looking in, it admittedly appears to be a very random incident. When I applied for the internship, I didn't have a direct connection or an "in" to the Congresswoman's office. I didn't live in the Congresswoman's district or state either, quite the opposite actually ‒ I'm from Mexico and grew up in South Texas. However, from my perspective it felt more like being in the right place at the right time, a '(wo)man meets the moment' type of experience, if you will. Unlike other positions I had applied to, I had a gut feeling about the congressional internship specifically; I knew I was a good fit and felt confident in my ability to meaningfully contribute to the ongoing work at the office. Fortunately, my intuition was right, and soon after submitting my application, I was called in for a preliminary interview, then a second interview (which also consisted of writing a policy memo) until I was notified about my acceptance to the internship program. I feel incredibly grateful to have been afforded the opportunity to prove myself and support the office in their endeavors. 
BB: What were your responsibilities and duties there? 
GG: Like many Capitol Hill interns, my primary responsibilities included assisting with administrative tasks such as answering phone calls, managing incoming mail, greeting office visitors, and conducting constituent tours of the Capitol as well as writing briefings and policy memos. In addition to these responsibilities, I was fortunate enough to be assigned to an ongoing project at the office with the Congresswoman's (now former) Senior Legislative Advisor. The project entailed compiling data on public housing developments across congressional districts and using that data to build an interactive web map intended to supplement the Green New Deal for Public Housing Act. Given my unique academic background and skill set, I served alongside the Senior Legislative Advisor as the project manager and lead data analyst.
BB: What was it like interning in the office of someone like AOC who was so groundbreaking and received so much attention?
GG: Overwhelming, both positively and negatively. Walking down the halls of the Cannon Office Building on my first day, I knew I would not get lost. All I had to do was look for the office with brightly colored sticky notes plastered along the walls ‒ a manifestation of, and testament to, the hope the Congresswoman represents for many Americans. Nearly every day, visitors would come by the office hoping for a chance encounter or an opportunity to thank the Congresswoman for her work. Politics aside, I understood the sentiment as I too felt a sense of admiration and respect for the Congresswoman.
In stark contrast, as much as the Congresswoman is admired by some, she is also disliked by others. I spent the first morning on the job learning about security protocols and threat mitigation strategies instituted by the office in response to increased attention and media coverage during the Congresswoman's first year in office. There were other days when the majority of incoming calls were angry strangers, most of which were not constituents, hurling insults over the phone at the Congresswoman. On those days, I should have known that trying to reason with an angry stranger is a futile effort because soon their anger would be redirected toward me. There was a fair amount of secondhand harassment from random people across the country, which made me quickly grow a thick skin, but also made me feel incredibly sympathetic toward the Congresswoman as she has dealt with a heightened level of scrutiny and criticism on a daily basis for a good portion of her career as a politician. In the long-term, I feel my internship experience has encouraged me to 'lower the temperature,' so to speak, when and where I can around conversations regarding politics. Our beliefs should never impede our ability to exercise reason, and there are certainly more tactful and respectful ways to disagree with one another. I feel my internship experience allowed me to discover a newfound respect and appreciation for members of Congress as I have seen firsthand that it is, by no means, an easy job.
BB: What did you learn about politics and Capitol Hill?
GG: As we have collectively experienced throughout the coronavirus pandemic, the legislative process can be quite slow, perhaps even more so with increasing political polarization. My time as an intern on Capitol Hill especially highlighted this aspect of our political system: Without cooperation, debate, and compromise amongst peer members of Congress, there is little hope that legislative proposals will become law. Working in the federal government, particularly in the legislative branch, poses many constraints and limitations to the policy-making process, and the political system as it exists is not conducive to productivity given competing interests and differing priorities. In recent years especially, partisanship has exacerbated and disrupted the already complex process of policy-making, making it harder to facilitate debate, encourage compromise, and legislate effectively on Capitol Hill. Perhaps most importantly, I have learned to be wary of over-glorifying and idolizing politicians as it blinds us from reality, robs us of our ability to critique impartially, and deepens the divide. This is one thing I have been guilty of in the past, but have committed to addressing and resolving as I move forward in my career.
BB: Any cool experiences you had while you were there? 
GG:I thoroughly enjoyed working and living in Washington, DC so much so that I plan on returning after completing my Master's degree. There were several memorable moments, but one in particular is very near and dear to my heart. Coincidentally, the last day of my internship at the Congresswoman's office also happened to be the day of my twenty-second birthday and that afternoon I was surprised with a farewell-birthday party organized by my colleagues and the Congresswoman. I am very grateful for the opportunity to have interned with the Congresswoman and feel extremely fortunate to have worked so closely with her staff members.