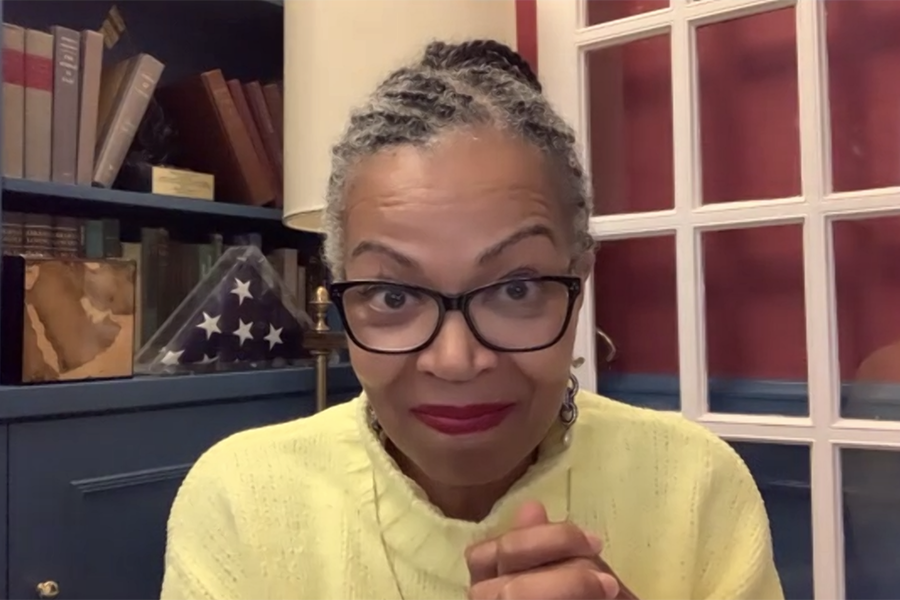 November 20, 2020
Lessons from a diplomat: Ambassador Gina Abercrombie-Winstanley visits IPS
By Bill Brink wbrink(through)andrew.cmu.edu
In the early 2000s, while serving as Consul General at the US Consulate in Jeddah, Saudi Arabia, Gina Abercrombie-Winstanley attended an event held by her Pakistani counterparts in a hotel. At the time, unmarried men and women could not be in the same place, and a man at the entrance directed her toward another room, where the spouses of the diplomats had gathered.
"I'm the US Consul General," she told him.
"Yes, and the women are in that room."
So Abercrombie-Winstanley, the first woman to lead a diplomatic mission in the country, entered the room, and in several quiet conversations reminded the women that they were not required to stay there, and when she rejoined the men, brought the entire room with her. That same conviction and confidence served her well during a three-decade career with in the foreign service, which took her all over the Middle East and culminated with the role of US ambassador to Malta. During her tenure in the foreign service, Abercrombie-Winstanley supported gender equality in Saudi Arabia and monitored elections in the Gaza Strip, and she spoke eloquently about the way being a woman of color impacted her career.
"As a woman or minority, you may worry about biases against you," Abercrombie-Winstanley said Wednesday during a Professional Journeys discussion with students from Carnegie Mellon University's Institute for Politics and Strategy, the latest virtual event from the Center for International Relations and Politics Policy Forum. "You've got to be aware of certain barriers to success and know where the challenges are going to be. It's important to have in mind, where are the additional hurdles that I may have to leap? But you should go in there expecting to be successful."
Abercrombie-Winstanley first tasted diplomacy while volunteering for the Peace Corps in Oman. Diplomats often invited volunteers to spend holidays with them, and Abercrombie-Winstanley surmised that while Peace Corps volunteers and diplomats had similar jobs, the diplomats did so from the comfort of an embassy while she lived next door to a family with two wives, two mothers-in-law, and three goats, making $60 a month.
Eventually she took the foreign service exam, passed it on the second try, and in 1985 received her first posting in Baghdad. There, she worked on a treaty that extended the validity of visas; negotiated the release of an American prisoner who had been tortured during detention; and was offered a $60,000 cash bribe for a visa.
"I slid the $60,000 and his application back to him, explaining we didn't take money for visas, and added with a smile that my reputation is worth more than that!" she said.
Her career took her to Jakarta and Cairo, then took a turn during a conversation with the US ambassador to Egypt. He recommended her for a job as a Special Assistant to Deputy Secretary of State Lawrence Eagleburger. Here she referenced one of several lessons she offered students: If someone is willing to sponsor you, take it. If they want you, they're invested in your success, and they're going to help you.
"I felt the weight of my gender and color as I worked to succeed. And I struggled at the beginning as the most junior special assistant with no Washington experience," Abercrombie-Winstanley said. "The job comes with long hours; mine were longer because I was also running around the building inviting people to coffee to ask them, what do you do? How does your bureau work?"
Abercrombie-Winstanley distilled memos and cables into one-page summaries for Eagleburger. She thought she'd like to work in Paris, but realized she never sent in any cables from Paris to Eagleburger. She did send him many cables from Tel Aviv.
Abercrombie-Winstanley's acquisition of a posting in Tel Aviv illustrated another lesson: Always be prepared to advocate for yourself. Upon finding that the job had been filled – by a friend – she told the people in charge of the decision that she would have been a better candidate. Her Arabic was stronger. She spoke Hebrew. She changed their minds. She got the job.
Abercrombie-Winstanley covered the Gaza Strip for three years in the mid-1990s before returning to Washington, where she received a Pearson Fellowship to work for Senator Joe Biden, the ranking member of the Senate Foreign Relations Committee. She'd questioned her decision to support a large committee instead of an individual member, but she learned a lot and it proved beneficial later in her career.
"Up for an ambassadorship, you have to be signed off on by the Senate Foreign Relations Committee. Well, I was a known quantity," she said. "It was extremely helpful. Never worry too much about what you don't get because what you do get could be very useful as well."
Winstanley's path to an ambassadorship hit a roadblock after her time as Consul General in Saudi Arabia. Al-Qaeda attacked the Consulate in 2004, and though she received a commendation for her conduct during the attack, her career stalled.
"The question isn't, are you going to stumble during your career," she said. "You will stumble. Sometimes you'll make a mistake and sometimes you've just got to take the hit, even if the mistake wasn't yours personally. The question is, what are you going to do in response? How do you retrieve yourself and put yourself back on track? How do you tap into your resilience?  I had to find those answers and in retrospect I spent too long  feeling very sorry for myself.
"When this happens to you, keep your pity party short and private, it will hinder your comeback because nobody wants to work with bitter."
Understanding she needed to strengthen a skill set, she advocated for herself with the assistant secretary of the State Department's Counterterrorism Bureau, a two-star general, until she got a job of Deputy Coordinator for Counterterrorism. In 2012, she was appointed as the US ambassador to Malta, where she served for almost four years.
"My mother always told me, don't be worried about how you got through the door," Abercrombie-Winstanley said. "Just make sure you take care of business once you're in the room."