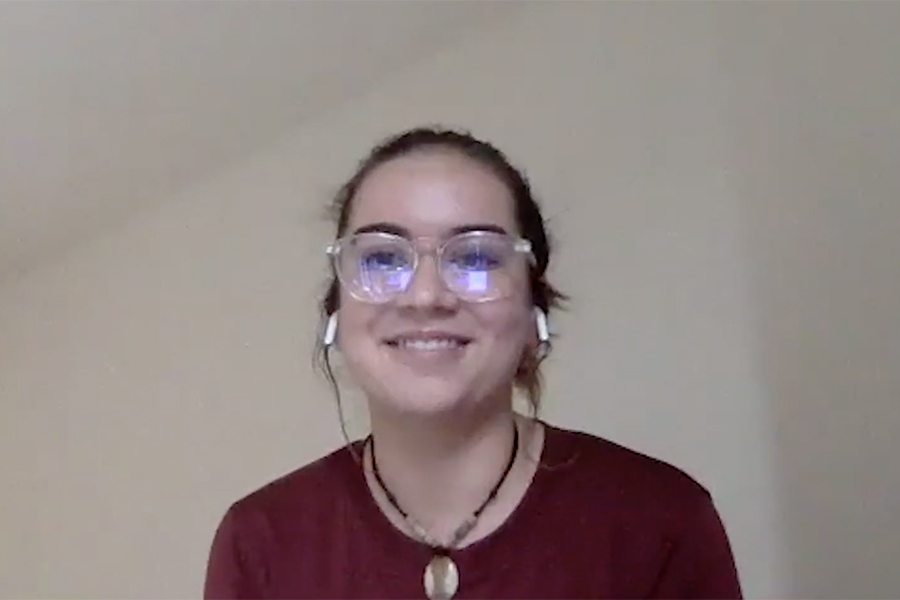 March 09, 2021
In Washington, DC, Engineering and Public Policy majors round out their educations
Removing salt from water to make it drinkable requires a tremendous amount of energy. Powerful pistons force the water through a porous membrane with gaps large enough for water but too small for salt molecules. It's expensive. 
Greta Markey is working on optimizing the geometry of those gaps, reducing the energy (and cost) required for the process and removing the barrier of access for areas of the world without the resources for these programs – often the areas that need them most. For Markey, a junior Civil and Environmental Engineering major with an additional major in Engineering and Public Policy, the Carnegie Mellon University Washington Semester program is the perfect complement to her CMU curriculum.
"The nature of the program in and of itself, giving you a lot of experience to pursue something that you're really passionate about while also taking classes and continuing to learn in that academic environment, is really, really cool," said Markey, a member of the Spring 2021 CMU/WSP cohort.
The Washington Semester Program allows undergraduate students from any course of study at Carnegie Mellon to spend a semester living, learning, and interning in the nation's capital. They learn from Fellows with decades of experience in policy, government, and media; intern on Capitol Hill, at think tanks, with government agencies, and in the private sector; and live near the heart of the action in housing on H Street. 
Markey is one of three Engineering and Public Policy additional majors in the fifteen-member Spring 2021 cohort. The EPP additional major has existed since 1970, when it originally focused on environmental issues. It now spans many areas, including privacy and security issues in computing, broadband access, and technology innovation, and helps its graduates bridge the gap between the development of technological solutions to problems and those who implement the policy governing them.
"When I think about students who are participating this semester or have participated in the past, it's that they want to have the experience of seeing how DC works, seeing all of the different participants in the policy-making process, and what they bring to that is their technical training of the problems," said Deanna Matthews, the Associate Department Head for Undergraduate Affairs in Engineering and Public Policy who is also a Teaching Professor in the department.
Markey chose Carnegie Mellon because its engineering department was not solely STEM-based, and she knew she wanted to work with the environment. She wanted to study in Washington since her freshman year, and she kept a running Google doc of the think tanks with whom she wanted to intern.
"I think that the students I have access to and the professors that I will be learning from this semester are going to be really different and provide me with a lot of really cool, unique perspectives on policy issues or political theory that I've never experienced before," Markey said. "I think the diversity of students that I'm going to have exposure to and be able to work with this semester is going to help me learn, but it's also going to be a nice break from all the STEM that I have been experiencing the past three years."
The EPP program attracted Rimsha Ahmed, another Civil and Environmental Engineering major with an additional major in EPP, to Carnegie Mellon because an environment in which the arts were valued as much as technology was important to her. She wants to bridge the gap between those doing the creating, and the realm of politics and community, and knew where she wanted to do it.
"Being in the heart of the US, the capital," said Ahmed, who like Markey is a member of the CMU/WSP Spring 2021 cohort. "I have always had a passion for public policy and politics, and at CMU I really just focused on the engineering side. … The whole co-op situation is really different than a lot of the experience that CMU students have, and I think it's really important to apply the knowledge that we're learning directly with an internship."
That interplay becomes valuable in the real world.
"You need people in the government agencies, the executive offices, the nonprofits, who actually understand what carbon capture sequestration can do, or what artificial intelligence can do," said Baruch Fischhoff, the Howard Heinz University Professor in both IPS and EPP. "Then you need to have people who are actually creating these technologies that realize that they're regulated, that there are liability issues they need to get on top of."
This spring, Ahmed, Markey, and the cohort will learn about intelligence policy, how to create public policy, and advocacy, in addition to weekly Policy Forums with thought leaders and decision makers. Ahmed is interning at The Climate Institute. The Wilson Center was not on Markey's Google doc, but she likes its bipartisan nature, one that will contribute to the broadening of her horizons in the District. 
"Within EPP and within engineering, especially as a double major, it's really hard to get study abroad experiences, just to fit it into your schedule and be able to graduate on time with all of the requirements that I have," she said. "One of the best things about the Washington Semester Program was that it allows me to fulfill a lot of those EPP requirements while still getting this unique academic experience."