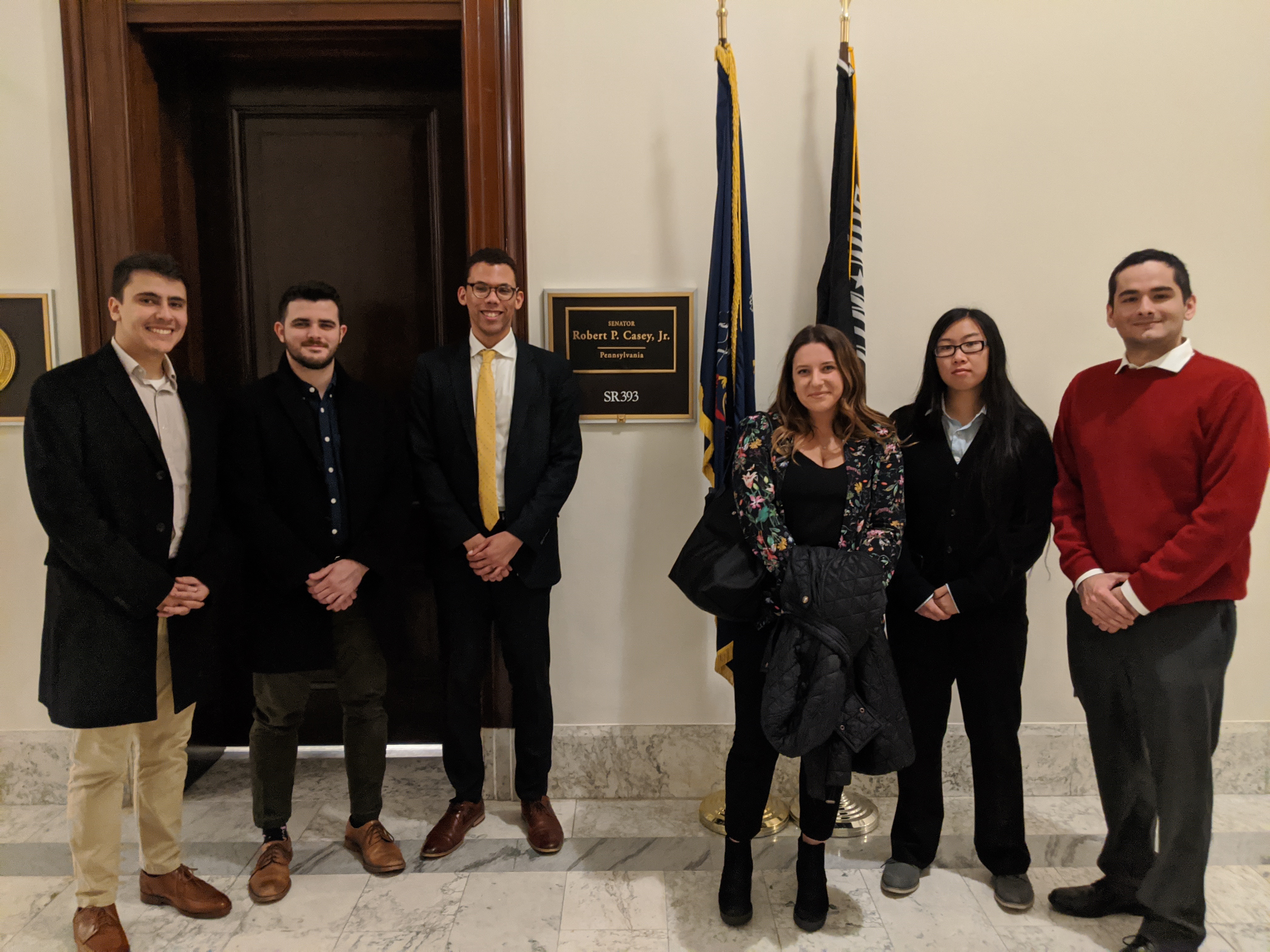 April 21, 2020
During physical distancing, MS IRP-AMP students present theses via Zoom
By Bill Brink wbrink(through)andrew.cmu.edu
The thesis symposium of the Accelerated Master of Science in International Relations and Politics' 2020 cohort was certainly of its time.
The MS IRP-AMP students presented studies on misinformation in the news, global finance, voter suppression and turnout, drone warfare, and the outcome of foreign-policy promises made during presidential campaigns – all issues which are currently relevant, especially in an election year. Further, the symposium took place remotely, via Zoom, because of the physical distancing practices resulting from the global spread of COVID-19. The coronavirus even influenced the outcome of at least one of the studies: When Aysar Gharaibeh began constructing his experiment, months ago, part of the material he presented to those whom he surveyed dealt with a hypothetical pandemic.
The symposium marked the completion of the final project for students in the MS IRP-AMP program, which allows Carnegie Mellon students to earn both a Bachelor's and Master's degree in five years by beginning graduate coursework during their senior (fourth) year. The students had ten minutes to present their findings, sharing their slideshows with the rest of the attendees on Zoom, followed by five minutes for questions.
Gharaibeh's thesis, titled "Misinformation & Truth Distortion," began as an attempt to examine Russian disinformation before he expanded the topic to cover misinformation and disinformation in general. The distinction between the two is intent.
"Misinformation is false information generally; if somebody misquotes a statistic or mistakenly says the wrong [team] won the football game," Gharaibeh said. "But if they do it on purpose, they tell you who won the football game yesterday to make [you] like their favorite team, that is disinformation."
Gharaibeh studied the effects of misinformation by soliciting feedback from 445 participants who read four articles, including a control article and three others that fell on the political spectrum as left-leaning, non-partisan, or right-leaning. To the two articles on political issues, Gharaibeh added five different levels of distortion, from zero (just the facts) to four (downright conspiratorial).
"The early levels, as I suspected, was about the same as level zero on all three of my conditions," Gharaibeh said. " … I can say with high confidence based on my results that trust in articles significantly falls at the higher levels of misinformation, but at the medium levels, it's [similar to] just facts."
Asked by his thesis advisor, Institute for Politics and Strategy Professor Colin Clarke, to provide a policy recommendation based on his findings, Gharaibeh cautioned that there was no silver bullet.
"It needs to be a coherent strategy," he said. "My recommendation would be establishing some sort of [government] office, some sort of department, that is specifically tasked with handling these issues and giving them full empowerment to tackle these problems."
Micah Rabin's thesis, "Voter Suppression Rhetoric and Voter Turnout in US Election Cycles," used a similar method. She provided a group of 723 people with four vignettes related to voter suppression and turnout, but tinged three of them with an appeal to the voter, using a sense of self-interest, a sense of civic duty, or both.
"From that, I was able to see that self-interest and civic duty are having some effects here, and they are important in speaking to voters," Rabin said.
One of her main takeaways from the study, were she to advise a political campaign, was to appeal to voters using this type of rhetoric, rather than the standard "get-out-the-vote" message, and to target civic-minded groups and those invested in their communities.
"Turnout is an understudied field, as well," Rabin said. "A lot of people are focused on very specific niches in the field. There's a lot of studies about, does rain affect turnout? People aren't really taking a step back and looking at the broader issue as much."
Antonio Freiria's thesis, "Truman to Trump: Analyzing Foreign Policy Campaign Promises," examined another aspect of the campaign trail. Using historical records of debates, convention speeches, and inaugural addresses, Freiria analyzed seventy years of presidential promises related to foreign policy.
"These events are extremely formal and very organized and structured, so any talking points that they touch upon would be planned in advance and would eliminate the possibilities of these promises being off the cuff or a random, in-the-moment promise," Freiria said.
Freiria evaluated the promises on a scale of zero, a complete whiff, to three, completed in full. He discovered that one of his hypotheses – that the rate of promises kept will increase during an election year – proved correct.
"I found that some of these promises … they started very early on, but ended up completing it later," he said. "For example, a lot of presidents during the Cold War had promises relating to disarmament. The START [Strategic Arms Reduction Treaty] negotiations started early on, the START II [talks] started early on."
Sometimes foreign-policy concerns require presidents to make tough decisions, and Kimberly Huang gave her study subjects a taste of them while working on her thesis, "Public-Elite Decision Making Gap on Drones in the US." By presenting her subjects with actual scenarios, Huang tested her hypothesis that the use of drone strikes would be higher among those acting as "elites" in the government rather than those acting as themselves. She offered an overseas threat and three options – drone strike, conventional strike, or no strike at all.
Huang continues to gather data.
Journal-length versions of the theses will be published this summer, in the next issue of the Center for International Relations and Politics (CIRP) Journal. As for the subjects of the theses, they will remain relevant as the year progresses.
"I'm very worried, I would say," said Gharaibeh, regarding disinformation leading up to the election this fall. "I don't think we're prepared yet. I think there's a lot more work to be done, and unfortunately with these things, I think we'll only be able to evaluate what happened after the fact."