Overhead and Indirect Cost Recovery Overview
Indirect Cost Rate Types and Preparation
Rates Lifecycle
Fixed Rates

Negotiated with Federal government (based on CMU projections)

Charged to Sponsored awards = F&A recovery
Provisional Rates –temporary rates superseded by Fixed Rates

Actual Rates

Rates calculated with actual expenses based on fiscal year activities
Compared to Fixed Rates to get annual variance/carryforward
Carryforward
Variance between the fixed (the charged rate) and the actual rate
Audited CFW amount is applied to a subsequent rate negotiation
Rate Preparation
Carnegie Mellon uses MAXIMUS CRIS.net, a software tool to prepare F&A rate proposals. This software incorporates all the reporting requirements of 2CFR Part 200-Uniform Administrative Requirement, Cost Principles and Audit Requirements for Federal Awards.
Indirect Costs Federal Oversight and Auditing
Department of Defense (DoD)
CMU assigned to the DoD for rate cognizance
45 Institutions of Higher Education (IHE) assigned to the DoD
Most IHE are Department of Health and Human Services cognizant
Office of Naval Research (ONR)
ONR Indirect Cost Branch is responsible for administering (negotiation and approval) of indirect cost rates for the university.
Defense Contract Audit Agency (DCAA)
Provides audit services to DoD and other federal sponsors
Operates under the authority of the Under Secretary of Defense (Comptroller)/Chief Financial Officer
DCAA maintains an office at CMU

Auditing year-round
Two full-time and one to three part-time auditors on site
Facilities and Administration (F&A) Definitions
F&A: Recovery of university overhead or indirect costs from sponsored research activities (overhead = real costs).
F&A Rate: Facility overhead plus the administrative overhead divied by the modified total direct costs (MTDC) for research equals the percentage

F

acility: Cost of the physical infrastructure of university identified as benefitting research through review of space utilization (exception Library)
Admin: Administrative costs of both central and department administration offices benefitting research
MTDC: Total direct cost less equipment expense, subcontracts > $25k, graduate tuition
Facility Components
Building
Depreciation expense for research buildings (new construction, purchases and renovations > $100k)
Renovations <$100k
Interest
Interest expense for bond-financed research buildings
Equipment Depreciation
Depreciation expense for non-sponsored equipment
Operation and Maintenance
General maintenance/utilities; protection/preservation of physical plant
Central: Facilities Management and Campus Services (FMCS), Campus Design and Facility Developement (CDFD), Environmental Health and Safety (EH&S), University Police, Insurance
Department funded FMCS activities (e.g., department moves, kitchen cleaning, day porters)
Library
Operating costs of university libraries
Administrative Components
General Admin

Office of the President, accounting, Payroll, Office of the General Counsel, Institutional Research and Analysis, Office of Human Resources, University Audit Services, Budget and Financial Planning, Computing Services
University Advancement is not included in the general admin component

Sponsored Projects Admin

Office of the Vice President for Research, Office of Sponsored Projects (OSP), Sponsored Projects Accounting (SPA), Cost Analysis

Student Services Admin

University Health Services, Counseling and Psychological Services (CaPs)

Department Admin

Deans and department heads offices, academic business offices (personnel and pro rata share of non-sponsored operating expenses)
Federal "allowance" for faculty administrative efforts (3.6%)
Office of the Provost administrative office
F&A Allocation Methodology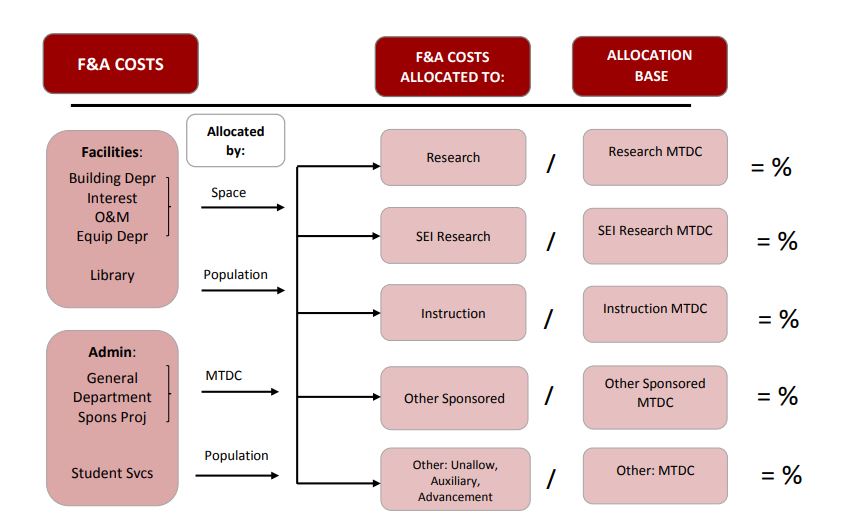 Administrative Cost Allocations – FY22 Rate
| | |
| --- | --- |
| General Admin | 8.8% |
| Department Admin | 15.5% |
| Sponsored Projects Admin | 4.3% |
| Student Services Admin | 1.0% |
| Uncapped Admin Rate | 29.5% |
| Capped Admin Rate | 26.0% |
Facility Cost Allocations – FY22 Rate
| | |
| --- | --- |
| Building Depreciation | 7.2% |
| Interest | 3.4% |
| Equipment Depreciation | 2.6% |
| Operations and Maintenance | 9.2% |
| Library | 3.9% |
| Facility Rate | 26.3% |
Effective Overhead Rate
Effective overhead rates equals the F&A rate divided by the total direct sponsored cost
FY19 effective rate = 21 percent