A new school year begins in Mason, Ohio—an affluent, bustling community in Greater Cincinnati. As one high school junior's honors classes get started, she doesn't find herself concerned about whether she'll get A's. Like last year, and the year before that, she realizes how important good grades are for her to get accepted to an elite college. But at the start of this school year, 2007-2008, 17-year-old Courtney Wittekind realizes something else, too.
She just spent her summer far from the tree-lined streets of Mason—as a volunteer at an orphanage and HIV/AIDS clinic in Swaziland, a small southern African country. At the time, Swaziland had one of the world's highest HIV infection rates, and deaths from HIV/AIDS had orphaned 75,000 children. There, she came face to face with a stark realization. Any problems that she endures are almost nonexistent in comparison to what she witnessed abroad.
That's why when she stepped into her classes that fall, the mere thought of what her final grade would be seemed so insignificant. "Once you see things in a different light, you can't reverse it, even if you want to," she says. "After that summer, it was really hard for me to buy into the idea that one point on your GPA matters, or that you need to have the top SAT score," she says.
Years later, Wittekind still recalls the memory of Swaziland. She has never returned to Africa, but she acknowledges that the harrowing experience gave her a sense of perspective in terms of what direction her life should take.
Some people search their entire lives looking for direction. But Wittekind's parents made sure that wouldn't be the case for their daughter. When she was born several months premature, doctors didn't know if she would survive. She weighed just over a pound, and was roughly the size of a Barbie doll.
After such a fraught start in the world, her parents could have been forgiven if they tried to wrap her in a protective cocoon. Instead, they often told her she survived for a reason and encouraged her to find that purpose.
Perhaps this confidence in their daughter's personal mission made it easier when she told them she wanted to volunteer abroad. "When I brought it up, certainly they were nervous, but I think they wanted me to make my own decisions, wanted to be supportive, so I could find my way in life," she says. "They told me, 'We want to know you're safe, and we hope you're careful,' but they never told me I couldn't do it. And they never told me they were scared."
While Wittekind had her parents' support, the journey and its impact on her didn't make sense to some others in Mason, which in 2008 was named by CNN as one of the top 100 places to live in the United States. "I remember telling my high school friends, 'I don't understand what I'm supposed to do now, because of what I experienced.'" Nobody had an answer.
What she did was go to class. In fact, she had enough credits to graduate from high school six months early. She could have stayed in high school, found ways to kill time and pad her transcript until June, but instead, she wanted to make a difference in people's lives.
After getting the OK from high-school administrators to graduate early, she spent the next eight months, living in southeastern Asia, along the Thailand/Burma border, where she taught children of refugee families who escaped the military conflict in Burma, a civil war that had been going on for decades.
When she returned to the United States to begin her freshman year at Carnegie Mellon University, she felt a sense of accomplishment, and she hoped her studies would build on a sense of purpose that was beginning to come into focus.
She had chosen CMU for the BXA intercollege degrees programs it offered: in the humanities and arts, computer science and arts, or science and arts. Her particular studies connected studio arts with anthropology. She says she relished her customized academic discipline. "You know you've found a good place for yourself when you have that feeling of, 'I can't believe I get to do this.'"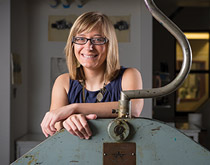 Part of what she got to do was return to Burma. After completing intensive Burmese language study at the University of Wisconsin summer program, Wittekind set out to develop her own study abroad opportunity, as no pre-established programs existed in the Thailand/Burma border region. With the help of her professors, she crafted a two-semester independent research project that would use visual activities such as drawing and photography as research methods. Working with communities from Burma, she sought to explore how migration affects the shifting identities of displaced children. Support and encouragement from across the university and its administration, combined with the financial backing of a prestigious Boren Scholarship transformed her initial proposal into a reality.
Her travels were covered in Carnegie Mellon Today:
In addition to compiling hundreds of photographs that documented the anthropological aspect of her studies, she learned that most refugee children don't feel sorry for themselves. Instead, they find comfort in what she describes as "communal suffering." Meaning, they realize they're not alone in having witnessed killings. The tragic bond brings them strength instead of tears.
Through daily art assignments, Wittekind says she helped many of the children open up about their lives. Painful memories frequently surfaced and were captured in sketches. In the next moment, though, they often reached for another blank sheet of paper. One stroke at a time, they drew the beauty and simplicity of their land.
During her senior year, she built upon this research with a senior thesis in the Dietrich College of Humanities and Social Sciences and a BXA Capstone project, both focused on her studies in anthropology. In the School of Art, she completed a printmaking-based senior project, collaborating with Burmese writers and artists to translate their work and publish it in a series of handmade books.
Outside of the classroom, she also pursued opportunities to explore her interests in a professional context, interning with the Department of State in 2012 and, in 2013, working for the United Nations High Commissioner for Refugees in Mawlamyine, Burma. After earning her Bachelor of Humanities and Arts degree from CMU in May 2013, she chose to work with The Brookings Institution, a research and policy solution think tank, and the London School of Economics as a part of their joint Project on Internal Displacement. Among her responsibilities she supported the project's goal of promoting more effective national, regional, and international responses to internal displacement, much like what is needed in Burma.
She discovered that the lack of anthropological data for Burma presents a real obstacle for humanitarian aid: "It isn't that humanitarian organizations aren't doing good work, but there are so many gaps in knowledge. It's very hard for them to have a strong strategy for the country when there's not much information out there."
Wittekind, with language skill and experience working in the country, thinks she might contribute to a broader effort to build a body of current knowledge related to Burma. "By no means do I think I have any answers to the issues of children who are unable to go to school, or the issues of refugees or migrants," says Wittekind. "Yes, I care about those issues, but the way in which I care about them is through more of an academic perspective, the results of which may be of value to humanitarian agencies."
After looking into how she could best continue her anthropological research in Burma, she determined the "right place" is the Institute of Social and Cultural Anthropology at the University of Oxford, in the United Kingdom.
"It's one of the few places that have a good number of people looking at Burma and the issues I'm interested in," she says. According to Wittekind, anthropologists specializing in Burma are quite rare, especially in U.S. institutions. At Oxford, she sees a longer tradition of scholarship — a legacy from British colonialism. "There's a history of texts and material there, even if it's not the same kind of work I want to do," Wittekind says. She also notes that Oxford will soon be launching a Modern Burmese Studies program.
"Basically, out of all of my graduate school options, all I wanted to do was go to Oxford."
Her strategy to do so was to apply for international fellowships that would gain her access to Oxford, including two of the most prestigious:
• The Marshall Scholarship, which selects up to 40 U.S. scholars each year from an extremely competitive pool of America's top undergraduate students. Among former Marshall scholars are Nobel and Pulitzer Prize winners, prominent CEOs, Supreme Court justices, U.S. Congressmen, and university presidents.
• The Rhodes Scholarship, widely considered the "world's most prestigious scholarship," selects scholars from several countries, including approximately 30 from the United States. Past winners include former U.S. President Bill Clinton.
The application process for even one of these prestigious awards can be long, difficult, and emotionally challenging. According to CMU's Assistant Vice Provost for Undergraduate Education Stephanie Wallach, who directs the Fellowships and Scholarships Office, not too many CMU students apply for both the Rhodes and Marshall scholarships.
Wittekind says she would have been "absolutely thrilled" to win either one, but there was a noticeable difference that would impact her studies. The Marshall Scholarship focuses on ambassadorial exchange between the U.S. and the U.K., not spending time outside the U.K. during the program. The Rhodes Scholarship, on the other hand, was a better fit for her goals because there were no travel limitations, which would facilitate conducting fieldwork and anthropology research in Burma.
Both scholarships are highly competitive. Hence, Wittekind's decision to hedge her bets and apply for both a Rhodes and Marshall Scholarship.
Preliminary good news came from the Marshall folks. She made it through the first stage of the competition and was asked to fly to Chicago for the final round of interviews. She did so and was elated to learn afterwards that she was offered a Marshall Scholarship.
But she wasn't quite ready to accept because she was still in the running for a Rhodes Scholarship. A week after winning the Marshall, she headed to Indianapolis for two days, joining other district finalists for the selection of this year's Rhodes scholars.
The final selection process for the Rhodes Scholarships sounds like a real pressure cooker: an evening cocktail party, individual candidate interviews held the next morning, followed by waiting together for the committee's results. "I got to meet many really interesting, impressive people, but it's also nerve-wracking," says Wittekind.
After several hours of deliberations, the committee announced the winners. She remembers hearing the other winner's name announced, then hers.
"I think part of the reason I interviewed well was because at that point I knew Oxford was the place for me regardless," says Wittekind. Even so, "it was just a very special moment." She decided to decline the Marshall in favor of the Rhodes program, since it could better accommodate the anthropological fieldwork she wants to include in her studies. Among the 32 American Rhodes Scholars-elect for 2014 are 11 from the Ivy League, Harvard (6), Yale (3), and Princeton (2). Brown, Columbia, Cornell, Dartmouth, and Penn had none.
While CMU can boast of previous Marshall and Rhodes scholars, Wittekind's accomplishments are unique in the school's history. She's CMU's first student to win a Rhodes Scholarship in the arts and humanities, and likely the only one to win both Rhodes and Marshall awards.
Susanne Slavick, CMU's Andrew W. Mellon professor of art, who helped mentor Wittekind during her undergraduate studies, perhaps best sums up Wittekind's academic achievement. "Her intelligence, creativity, tenacity, diplomacy, altruism, and leadership will have us all saying, 'I remember her when.' We are so very proud of her."
Wittekind begins her studies at Oxford later this year.