Rhodes Scholar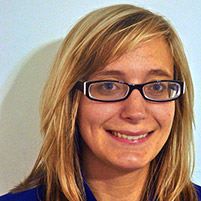 Courtney T. Wittekind (A'13)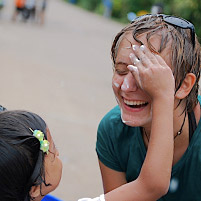 Courtney celebrates during a festival in Thailand.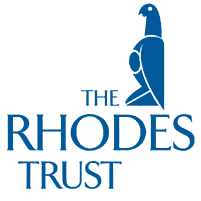 Carnegie Mellon University alumna Courtney T. Wittekind (A'13) was awarded a Rhodes Scholarship, one of the oldest and most prestigious international study awards.
The Rhodes Trust noted Wittekind's work in art, activism and anthropology on behalf of displaced persons and refugees as the main reason for her selection.
"Courtney represents the best of all that we offer at Carnegie Mellon,' said Stephanie Wallach, assistant vice provost of undergraduate education and director of the Fellowships and Scholarships and Undergraduate Research offices. "She holds the promise of a leader who can help reshape how we consider cross-cultural communication and policymaking."
Wittekind earned a Bachelor of Humanities and Arts degree as part of the BXA Intercollege Degree programs.
"Carnegie Mellon has been, and continues to be, not just a launching point in regard to my future career, but also a valuable system of support in terms of helping me prepare to pursue my ambitions," Wittekind said, noting that faculty members and administrators worked with her to pursue her goals. "The flexibility and advising offered by the BXA Interdisciplinary Program was key. Being a part of an interdisciplinary community that was constantly pushing the boundaries of various fields and of the wider limits of academia transformed the way I thought about my own research and its potential impact."
The scholarship program covers the full cost for recipients to study at the University of Oxford in the United Kingdom, covering two to four years of tuition. Wittekind will study at Oxford beginning next fall and plans to pursue a doctorate in anthropology.
"Rhodes really stood out to me for its goal of funding scholars who will fight 'the world's fight," Wittekind said. "That was a concept that really struck a chord with me and continues to parallel my own vision for the work I hope to do in the future."
The award puts her in the right place at the right time.
"Oxford has developed additional programs focused on Burma and relevant to my planned course of study," she said.
Wittekind said she already has a number of contacts at Oxford whose support has been key in developing a research proposal and a vision for the work she plans to do at the post-graduate level.
Wittekind works at The Brookings Institution, a private nonprofit organization devoted to independent research and innovative policy solutions. Prior to that, she worked with the United Nations High Commissioner for Refugees field office in Myanmar (Burma). While at Carnegie Mellon, she served as a news editor for The Tartan and served on its editorial board. She created arts initiatives in impoverished neighborhoods in Pittsburgh and Nicaragua with the student organization Juntos CMU. She also studied in Thailand on a Boren Scholarship.
"Courtney is a stellar alumna from our Bachelor of Humanities and Arts Program. She found a perfect, seamless balance between a compelling artistic practice and rigorous academic research, blending art and anthropology with a minor in professional writing," said Susanne Slavick, Andrew W. Mellon professor of art. "Her intelligence, creativity, tenacity, diplomacy, altruism and leadership will have us all saying, 'I remember her when.' We are so very proud of her."
Wittekind is Carnegie Mellon's fourth Rhodes Scholar. Prior Rhodes Scholarships were given to Mindy Hebert DeRouen (S'02), the late Ronald Boyer (S'53) and Cindi Dennis (S'00, CS'00).
Related Links: Carnegie Mellon Today "Border Patrol" | Student Awards | Rhodes Trust Press Release | Press Release: CMU Alumna Named Rhodes Scholar
---