Tartan pride was in full display as Carnegie Mellon University's Alumni Association awards were presented Friday, May 3, as part of Commencement Weekend for the first time.
Outstanding alumni and students were honored for career achievements and exceptional service to the university. Since 1950, nearly 900 alumni have been celebrated.
Beverley R. Wheeler, a 1976 graduate of the Dietrich College who earned her master's degree from the Heinz College, always knew she wanted to attend Carnegie Mellon.
"Anyone that knows me knows that I am a Carnegie Mellon freak!" she joked, adding that she had told her parents that if she couldn't go to Carnegie Mellon then she wasn't going to college.
Over the years she has had many experiences that have solidified her first impression, and she credits CMU for a unique combination of innovation, collaboration and cooperation. Wheeler is an adjunct faculty member in the Heinz College and a former president of CMU's Alumni Association.
Wheeler, who received a Distinguished Service Award, was recognized for more than three decades of volunteerism at CMU in a wide range of areas, including spearheading and co-chairing the campaign to create an endowed scholarship named for former president Jared L. Cohon. Today, she directs the nonprofit DC Hunger Solutions whose mission is to create a hunger-free community in Washington, D.C. Previously she led a charter school management organization serving 1,400 inner-city school students.
"I have learned so much and I have so many incredible friends," Wheeler said. "I believe that the education we receive impels us to action, impels us to make a better world. Carnegie Mellon gives us that opportunity."
Last weekend was grand for Minnar Xie, who was recognized for student service at the Alumni Awards, and two days later received her bachelor's degree.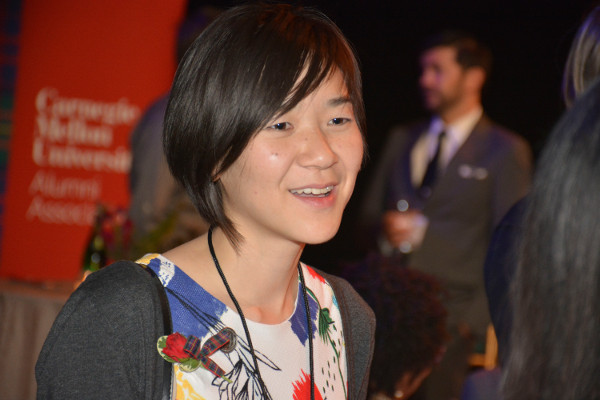 Xie graduated as a 5th Year Scholar from CMU's Bachelor of Humanities and Arts program. She earned a bachelor's degree in art and psychology, with an additional major in human-computer interaction. She was recognized for her unparalleled commitment to helping others through multiple initiatives, including her leadership in supporting refugees in Pittsburgh and founding an SAT preparatory program for college-bound youth.
Xie's childhood was a cross-cultural experience shaped by Chinese parents who immigrated to the United States in their 30s. As an adult, she maintains an interest in international issues, working with people from diverse backgrounds and is fascinated by domestic issues as well, such as mental health and affordable housing.  
"Globalization has made the local and the global very intertwined, whether literally in issues like immigration, but also in the ways that international trade policies shape everyone's lives," Xie said.
Xie said her CMU education gave her new ways of working, challenged her worldviews and encouraged her.
"More than anything, it instilled in me an optimistic, collaborative attitude of approaching situations, asking 'How might I make this possible?'" she said.
Xie was among four young honorees representing the classes of 2015 and 2016.
The honorees were united in their deep and sincere appreciation for the support system made up of the university's faculty and staff.
"There should be an award for Dean Swank," said Anthony Caine, a 1979 graduate of the Tepper School of Business, referring to Earle Swank, who served as the dean of Student Affairs when Caine was a student.
Caine recalled having been forgiven by Swank after getting caught socializing on the roof of the College of Fine Arts. Despite a few reprimands as a student, Caine said he appreciates CMU's strong network of students and alumni. He credited the Alumni Association for creating the sense of community at CMU.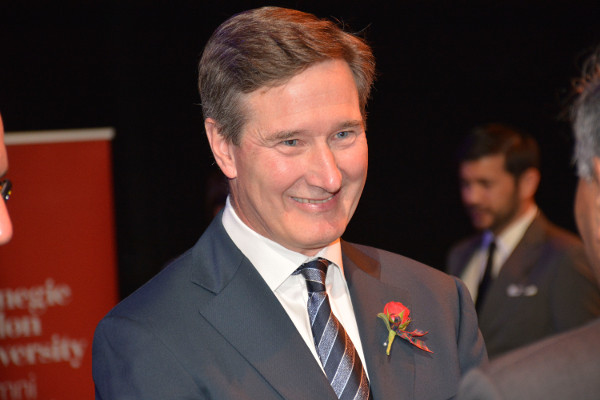 "Assets of a university, and particularly Carnegie Mellon, are tied to the ability to solve complex problems and to perform in a complex society. Those are assets that I valued and I took from Carnegie Mellon," Caine said. "An asset that I value far greater was the element of a great number of lifelong friendships at the university."
Caine is founder and chairman of Chicago-based LJM Partners, Ltd., an investment and hedge fund company. LJM manages $500 million in client and proprietary funds and has generated annualized returns exceeding 18 percent over its 18-year history. In addition to fund management, LJM Partners is active in philanthropy, supporting children and education initiatives globally and in Chicago.
"Choosing to go to Carnegie Mellon was a pivotal decision for me that established the foundation for professional accomplishment and even more important the foundation to give back in the form of education philanthropy," Caine said.
By the end of the ceremony, the honorees had all expressed their appreciation for and pride in CMU They kicked off an eventful weekend as examples of real-word inspiration to the Class of 2016.
The full list of alumni awards includes:
Alumni Distinguished Achievement
Daniel S. Nagin (TPR 1971, 1971, HNZ 1976)
Alumni Distinguished Service
Beverley R. Wheeler (DC 1976, HNZ 1978)
Alumni Achievement
Anthony Caine (TPR 1979)
Dr. Kevin J. Handerhan (E 1980, 1986, 1988)
Alumni Service
Marilyn Bracken (MM 1957)
Jon Hayden (A 1980)
Seth Pearlman (E 1978, 1979), P.E., D.GE
Recent Alumni
Bob Moczydlowsky (A, HNZ 2007)
Shanna Tellerman (A 2003, MET 2005)
Student Service
Siriana Abboud (DC 2016)
Ian Glasner (E 2016, TPR 2016)
Mariah Ondeck (E 2015)
Minnar Xie (CMU 2016)