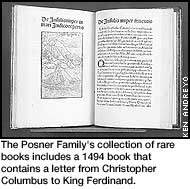 The university is working with the family of Henry and Helen Posner to develop plans for a new facility to house the Posner collection of rare books and jade and ivory carvings now on display in the fourth- floor Fine and Rare Books Room in Hunt Library.
The new building-a gift of Henry and Helen-will be located between Posner Hall and the College of Fine Arts-a site targeted in the university's master plan for future green space. The new facility would be mostly underground with a rooftop garden and sculpture court. The main entranceway, which will feature one-story tall windows, will face Margaret Morrison Carnegie Hall and the tennis courts.
Henry Posner, chairman of The Hawthorne Group, a private investment and management firm, is an emeritus life trustee of Carnegie Mellon.
"In addition to providing a secure but more accessible site for the collection, the building will include a suite of executive meeting rooms which will free up other meeting spaces in the University Center," said Paul Tellers, university architect. "This project supports the vision of the master plan, while meeting emerging needs on campus for more beautiful spaces, as well as more ways to display and enjoy these magnificent and important artifacts and works of art."
"This distinctive collection allows interested individuals to see seminal works in the history of science, American history and belle lettres right here on campus," said Gloriana St. Clair, university librarian. "In 1792, Thomas Jefferson as Secretary of State printed the text of the Bill of Rights as ratified by the states. Although he sent a copy to each of the 13 states, only three copies of this printing are still extant. The Posner copy is the only one in private hands-the others are in the Library of Congress and the American Antiquarian Society."
St. Clair said other treasures of the collection include original major works by Euclid, Copernicus, Kepler, Ptolemy and Newton.
"We are delighted to be working with the Posner family in its mission to preserve the collection and dedicate it for educational purposes," St. Clair said.
Other rare items in the Posner collection include a 1494 book that contains a translation of Christopher Columbus' letter to King Ferdinand and Queen Isabella of Spain in which he describes his first voyage to America, the 1687 book "Principia," in which author Sir Isaac Newton discusses the existence of gravity, and Karl Marx's "Communist Manifesto," written in 1848.
Tellers and the Posner family are discussing design plans for the new structure. In accordance with university procedures, the final building concept will be presented to Carnegie Mellon's Design Review Committee as well as the Board of Trustees.
Kyle Fisher Morabito and Bruce Gerson
05/10/01