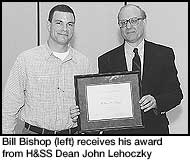 Stephanie Dickey, Nancy Monda and Rosa Stipanovic received the College of Humanities and Social Sciences (H&SS) Outstanding Service Awards at the school's annual staff recognition luncheon on April 12. Bill Bishop, a member of the college's computing support staff, won the Newcomer Award.
"There is no doubt that H&SS staff members make vital contributions to the life of the college," said H&SS Dean John Lehoczky, master of ceremonies for the awards program. "You are at the intersection of so many of our important efforts-with our students, with our research and with our teaching."
Lehoczky said this year's award recipients all exhibited grace under pressure, the ability to solve problems, excellent professional skills and superb personal skills.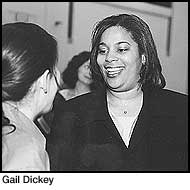 Dickey is the academic coordinator for the English Department, a position she's held for the past five years. She handles all of the record keeping and coordination for both the undergraduate and graduate programs.
Colleagues who nominated Dickey said she does the work of two-and sometimes more-people with efficiency and friendliness. They said she epitomizes a "can do" attitude and that faculty, staff and students in English benefit from her grace under fire and her problem-solving abilities.
Monda has been the business manager for the Modern Languages Department for 17 years, and her responsibilities have grown as the department has grown. Working with Department Head Richard Tucker, she has developed and managed the budget, worked on grants and handled personnel forms.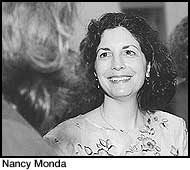 During the past year she has also assisted in the development and installation of the new Language Learning Resource Center.
Stipanovic, an administrative assistant in Social and Decision Sciences for the past 13 years, has been a member of the Carnegie Mellon staff since 1985. Her nominators described her as "amazingly versatile" and praised her for handling everything from organizing conferences to managing manuscripts.
Several faculty members claimed that because Stipanovic's organizational skills are so finely tuned, their skills have atrophied.
Bishop, senior user consultant for H&SS Computing, is the initial winner of the college's Newcomer Award, which recognizes tireless effort among new staff members.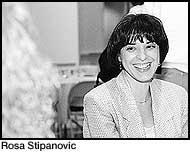 He was lauded for his superior technical skills and his interest in new technologies. H&SS Director of Computing Kim Jordan said Bishop has "one of the most positive, friendly attitudes toward computer support that I've ever experienced in higher education."
Winners were selected by the staff awards committee. Members are John Clark (Statistics), Gail Dickey (History), Theresa Kurutz (Psychology), Andrea Lehman (H&SS Dean's Office), Vickie Makel (English), Roman Mitz (Center for the Neural Basis of Cognition), Stephen Pajewski (Social and Decision Sciences), Jan Puhl (Philosophy) and Etsuko Takahashi (Modern Languages).
Teresa Sokol Thomas
05/10/01