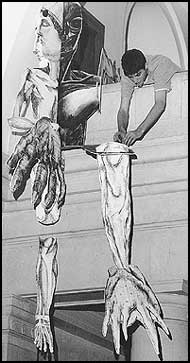 Art Students Collaborate in "Exquisite Corpse" Project
Queer, disjointed bodies dangle from the mezzanine, slouch over doorways and recline against the marble walls of the College of Fine Arts' Great Hall. Students stop to stare in wonder as a three-faced alien fishes for an eyeball.
This surrealistic scene is the collaborative project of three Carnegie Mellon freshman art classes. Titled "Exquisite Corpse," the project is inspired by the Victorian-era parlor game of the same name. Originally a word game, it consists of composing a sentence without the other players' knowledge of the preceding parts.
Surrealist artists, such as Joan Miro and Man Ray, employed a drawing version of "Exquisite Corpse" to explore subconsciously created art. They believed the harmony in the figure, or lack thereof, revealed hidden truths about the artists and the world.
To play, one begins a drawing and then folds the paper to conceal all but a portion of the figure. The next player continues the drawing, folding the paper again and passing it along. When the paper is unfolded, the image revealed is a tangle of mismatched body parts jutting from obscure locations. The effect as a whole is poetic in its ability to bring cohesion to extraneous subject matter.
In the School of Art's version, destiny decides the constitution of each team project. Only fate knows if the final outcome may have the head of the Mona Lisa, the torso of David and the legs of King Kong.
To design each form instructors Patricia Bellan-Gillen, Mary Weidner and Tim Hadfield filled bags with pictures of body parts from art history and pop culture. Each group then had to randomly choose a head, torso and extremities from the bags.
"Using this process gave students the opportunity to think about the role of chance in producing art," Bellan-Gillen said.
The students then fused the stray body fragments, created primarily from foam core and ink, into one six-foot plus form, thus explaining the deranged, Road Warrior-like appearance of the creatures occupying the Great Hall.
"Usually, the freshman art projects are displayed upstairs where only the other art students see them," said Clare Parry, class of 2004. "Considering the time and effort each team put into this project, it deserves to be down here where everyone can see it."
Joelle Park
05/10/01