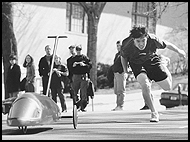 Goin' Buggy!
The Buggy Races, a Spring Carnival tradition since 1920, will begin at 8 a.m., Friday and Saturday, April 20-21. Margaret Morrison Street, Tech Street, Frew Street and Schenley Drive will be closed from 6 a.m. - noon each day. Spring Carnival begins at 4:30 p.m., April 19 on the Midway in the Morewood Gardens parking lot. For more carnival information visit the Web at www.andrew.cmu.edu/org/carnival/.

CMRI to Reorganize to Better Meet University's Strategic Direction
Carnegie Mellon President Jared L. Cohon has announced that the Carnegie Mellon Research Institute (CMRI), the applied research arm of the university, will undergo a reorganization, effective immediately.

"To more closely align the activities of the Carnegie Mellon Research Institute with the strategic direction and priorities of the university and to ensure that CMRI activities are financially viable, I am announcing a reorganization of the institute," Cohon said in a March 30 memo to CMRI members.

"It is my intention that this reorganization begin immediately and be completed over the course of the next year." More..
---
Graduate Programs Earn High Marks in U.S. News & World Report Magazine Survey
CIT is Tops in Computer Engineering; Heinz Retains #1 Position in Information Technology and Management
Carnegie Mellon's graduate programs in public affairs, engineering and business, and its doctoral programs in psychology and economics rank among the nation's best, according to U.S. News & World Report magazine's annual qualitative and quantitative analysis of "America's Best Graduate Schools." The rankings appeared in the April 9 issue of the magazine (www.usnews.com).

In the reputational survey of public affairs programs, the Heinz School tied for seventh overall with the University of Michigan, the University of Southern California and the University of Texas at Austin. Harvard University and Syracuse University tied for the top spot. More..