Kryder, founder and former director of Carnegie Mellon's Data Storage Systems Center (DSSC), is recognized as one of the world's leading experts in the field of magnetic research and information storage.
He was recruited by Seagate Technology, a leading provider of technology and products enabling people to store, access and manage information, to head its internal research and development activities in 1998. Seagate is one of the world's largest manufacturers of disc drives, magnetic discs and tape drives.
"Seagate Technology thought so highly of his research work that they built a research laboratory in Pittsburgh primarily for him and made him senior vice president and director of Seagate Research," said founder and CEO of Ansoft Corporation Zoltan Cendes, who nominated Kryder for the award.
Cendes noted Kryder's ongoing work to develop new magnetic materials and new test systems for recording at high densities as an example of his significant advances in the field.
Kryder joined the Carnegie Mellon faculty in 1978 from the IBM T.J. Watson Research Center in New York. In 1980, he founded the Magnetics Technology Center, which eventually became the DSSC, the country's leading center on magnetic recording.
"Mark has provided outstanding leadership in the development of technologies for data storage," said University Professor of Electrical and Computer Engineering Bob White, director of the DSSC. "He established a world-class research center here and is now providing the technical leadership for the National Storage Industry Consortium, a consortium of more than 20 companies involved in the manufacture of disc and tape systems."
White noted that Kryder has played a major role in the development of storage engineers. He said the DSSC has produced more than 200 Ph.D.s who are now working in the industry.
Linda Northrop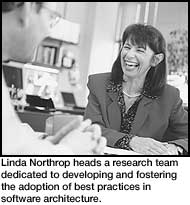 Northrop has created and provided the energy and vision for the Software Product Line Systems program, a world-class research team at the SEI that includes about 40 internationally known scientists dedicated to developing and fostering the adoption of best practices in software product lines and software architecture. Her group guides organizations away from traditional one-at-a-time system development toward systematic, large-scale reuse.
"In a relatively short period of time, Linda has propelled the SEI's work in leading- edge software engineering practices to the forefront of the international technical community," said SEI Director Steve Cross. "Her work is being readily adopted by organizations throughout the world and it is having tremendous impact.
"Simply stated, Linda is the most gifted and dynamic technical leader that I have ever known," Cross said.
Northrop has more than 30 years experience in software development as a practitioner, manager, consultant and educator. Before assuming management of the Product Line Systems program, she led the SEI's Software Architecture Project, managed the Education Process Project and chaired the Education and Training Review Board. She is co-developer of the SEI Improvement Planning Workshop and has taught software engineering at Carnegie Mellon.
Before joining the SEI, Northrop was a computer science professor at the U.S. Air Force Academy and the State University of New York, and a software engineer for the Eastman Kodak Company and IBM.
Northrop has received numerous invitations to speak at major software engi-neering conferences. She is chair of the Object-Oriented Programming, Systems, Language and Applications Conference, which will be held next fall in Tampa, Fla.
"Software Product Lines: Practices and Patterns," a book she co-authored, will be published in July.
Alan Waggoner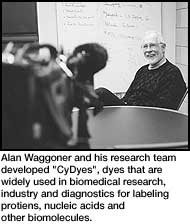 Waggoner was praised for his work in advancing the development of fluorescence technologies for biological research, biotechnology and medical diagnostics. He and his research team developed "CyDyes," bright, stable and water-soluble cyanine dyes that are widely used in research, industry and diagnostics for labeling proteins, nucleic acids and other biomolecules.
Waggoner won the 1999 Technical Achievement Award from the Society for Biological Screening for his work in developing fluorescent reagents used by the pharmaceutical industry for drug discovery.
"Alan is among an elite handful of scientists having the most dramatic impact on fluorescence and imaging in the world," said Victor Weedn, principal research scientist and director of Carnegie Mellon's biotechnology and health initiatives. "His fluorescent dyes are currently the most commonly used in biomedical research.
"These dyes permit the detection of tens of thousands of molecules on a 'gene chip' that determine the inner workings of a single cell and also permit the interrogation of millions of cells by a flow cytometer."
Waggoner is a lead researcher on a project to begin development of a biosensor tool kit that will enable scientists to more fully understand cellular activity as it occurs in living organisms.
The tools to be developed include an array of optical probes and sensing devices that can be used to detect the different states and functions of cells, tissues or fluids. The project is being funded by a $1 million grant form the W. M. Keck Foundation.
Waggoner, who joined Carnegie Mellon's faculty in 1991, was instrumental in establishing the Center for Fluorescence Research, which later became the STC. In 1994, he joined Amersham as principal scientist and head of fluorescence to promote commercialization of the cyanine dyes he and his research team had developed.
He returned to Carnegie Mellon in 1999 as director of the STC. Today, the center is working with new optical imaging technologies, advanced fluorescent reagent development and microbiosensors for studying living cells within tissues.
Teresa Sokol Thomas, Bill Pollak and Bruce Gerson
04/18/01