Carnegie Mellon President Jared L. Cohon has announced that the Carnegie Mellon Research Institute (CMRI), the applied research arm of the university, will undergo a reorganization, effective immediately.
"To more closely align the activities of the Carnegie Mellon Research Institute with the strategic direction and priorities of the university and to ensure that CMRI activities are financially viable, I am announcing a reorganization of the institute," Cohon said in a March 30 memo to CMRI members.
"It is my intention that this reorganization begin immediately and be completed over the course of the next year."
Cohon said in the "near term," CMRI will continue to operate as a separate research entity of the university.
"However, our plan is that within a year CMRI will no longer operate as a separate unit. It is anticipated that activities will either be integrated with those of the university, spun out or phased out," he said.
Cohon said "traditional contract research" has become "less viable for universities." He noted that Chris Gabriel, vice provost for corporate partnerships and technology development, and CMRI Director Ted Willke have examined potential new models for CMRI-related activities over the past year.
Gabriel said she and Willke "benchmarked" about a dozen similar organizations and "considered a very large range of options" for the future of CMRI.
"Over the past five or more years, every advisory committee and board that has looked at CMRI has urged the university to find ways to better integrate the programs into those of the university overall," Gabriel said. "So we are doing that."
Cohon has appointed Gabriel to lead a transition team that will oversee the CMRI reorganization.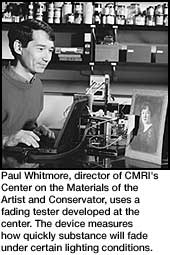 The restructuring may affect the employment of some CMRI staff members," Cohon said. "Through Human Resources, we will be providing affected employees with services and support in finding different employment within the university or in the community."
Cohon said he would soon schedule an open meeting for the 146 CMRI employees in which Provost Mark Kamlet and Gabriel will fully explain the transition plan.
CMRI, which moved to its new five-story, $16-million facility in the Pittsburgh Technology Center on Second Avenue in April 1995, includes major research groups in applied advanced technologies, environmental technology, information technology and intelligent systems.
It also includes special programs for advanced telecommunications, learning management systems and transportation safety and training, among others. CMRI's Center on the Materials of the Artist and Conservator is a one-of-a-kind unit that provides technical information about materials to help artists and conservators create, maintain and repair artifacts.
CMRI also includes the Center for Information Systems Engineering, an outgrowth of the Software Engineering Institute that helps industry in applying advanced systems and software engineering practices to solve problems.
Willke, who became director and chief operating officer of the institute in 1997, notes several of the institute's major accomplishments over the years in his message on the CMRI Web site (www.cmu.edu/cmri). He cites CMRI's work to help major newspapers automate their post-press operations and its biotechnology studies of plastics that may help create safer landfills.
Willke also praises the institute for its development of the Optical Methane Detector for the Gas Research Institute, an innovative new technology for detecting natural gas leaks that allows a gas company to survey large areas more efficiently.
"CMRI has contributed to Carnegie Mellon's reputation as a leader in science and technology research," Willke said. "We have contributed to the expansion of Pittsburgh's changing economy in the application of technology to facilitate economic and community development.
"We're proud of the work we've done and although our roles will change, we will continue to be proud to be part of the Carnegie Mellon community," Willke said.
Willke joined CMRI after 15 years in various leadership positions at the Gas Research Institute.
Bruce Gerson
04/18/01