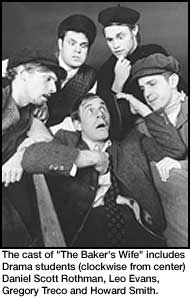 Drama Presents "The Baker's Wife," its Largest Stage Production Ever
Music and Lyrics Written by Academy® and Grammy® Award-Winning Alumnus, Stephen Schwartz
The School of Drama presents its largest stage production in history when it raises the curtain for "The Baker's Wife," April 18-21, 25-28 and May 2-5 in the Purnell Center for the Arts' Phillip Chosky Theatre.
The production's music and lyrics are written by Academy and Grammy award winner Stephen Schwartz, a 1968 graduate of the College of Fine Arts. The score features such cherished songs as "Meadowlark," "Gifts of Love" and "Endless Nights."
Performances of "The Baker's Wife" begin at 8 p.m. In addition, a 2 p.m. matinee is scheduled for both Saturdays.
"The theme of this play is to appreciate what you have, to find beauty in what is simple and ordinary in life," said director and lecturer Geoffrey Hitch.
Hitch touts "The Baker's Wife" as the largest production the School of Drama has ever staged.
"The magnitude and artistic quality of the set, inspired by French impressionistic paintings, is alone impressive, " he said. "But, it is also completely mechanized. During the course of the play, entire buildings move. The effect is magnificent."
Hitch is an active member of the Society of Stage Directors and Choreographers and has been on the faculty at Carnegie Mellon since 1992. He teaches Directing III, Junior Studio, Designer/Director Collaboration, Theatre Lab and The Fundamentals of Directing.
His directing credits include more than 135 productions of classics, dramas, comedies, musicals and original works, including the North American tour of "Beauty and the Beast."
"The Baker's Wife," based on the book by Joseph Stein, is set in a quaint pastoral village in southern France. The story centers around the town's new baker and his most tantalizing dish-his young wife, Genevieve, who runs away with the town Casanova. The jilted husband becomes too distraught to bake, so the town's people conspire to rekindle the baker's lost love so they once again can reap the fruits of the baker's ovens.
For ticket information, contact the Drama Box Office at 268-2407.
Joelle Park
04/18/01