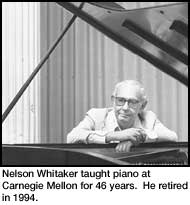 Obituaries: Whitaker and Shull
Former Piano Professor Nelson Whitaker Worked Behind Enemy Lines in WW II
Nelson Whitaker, professor of piano emeritus, died earlier this month at the age of 77.
A classical pianist, Whitaker studied at the Juilliard School of Music and the Conservatoire National in Paris as well as at the University of Texas, the Carnegie Institute of Technology and the University of Pittsburgh. He joined the Department of Music faculty in 1948 and taught piano for 46 years before retiring in 1994. In addition to teaching, he performed with the Cleveland Orchestra and at Carnegie Hall in New York City.
"Nelson was a stimulating intellectual," said Ralph Zitterbart, associate professor of piano. "He could discuss anything, philosophy, politics, literature, economics and of course, music.
"He was also one of the most dedicated teachers, always putting the welfare of the student first. He will be sorely missed by all who had the pleasure of knowing him. I feel fortunate to have been one of those people," Zitterbart said.
Leonardo Balada, university professor of composition, remembers Whitaker as a "most honest and sincere individual," who "wasn't into showmanship." "He was always very good at portraying exactly what the composer had in mind for a piece," Balada said.
Before joining the faculty, Whitaker served in the U.S. Army during World War II as a member of Detachment 101, a secret group of guerrilla-warfare specialists that worked behind enemy lines in the Far East. The undercover troop was part of the Office of Strategic Services, the forerunner of the Central Intelligence Agency.
After the war he was offered a position with the Office of Strategic Services, but chose to pursue a career in music.
A memorial service for Whitaker is being planned by the School of Music.


Alumnus and Nobel Laureate Clifford Shull Dies at Age 85
Clifford G. Shull (S 1937), a 1994 Nobel Prize winner in physics and professor of physics emeritus at the Massachusetts Institute of Technology (MIT), died on March 31 at Lawrence Memorial Hospital in Medford, Mass., at the age of 85. His wife of 60 years, Martha, died a few days later on April 4 after an extended illness.
Shull was awarded the Nobel Prize for his pioneering work in neutron scattering, a technique that reveals where atoms are within a material. Understanding where atoms are in a material and how they interact with one another is the key to understanding a material's properties.
Shull's pioneering work in neutron diffraction began in 1946 at what is now Oak Ridge National Laboratory. As he refined the scattering technique, Shull studied the fundamental properties of the neutron itself. He also initiated the first neutron diffraction investigations of magnetic materials. This yielded information about the magnetic properties of materials at the atomic level, opening up an entirely new field of study.
Shull was the fourth member of the MIT physics faculty to receive the Nobel Prize in physics and the 15th present or former faculty member at the institute to receive a Nobel Prize. He is one of 10 Nobel Prize winners who have studied, taught or conducted research at Carnegie Mellon.
Born in Pittsburgh in 1915, Shull graduated from Schenley High School before earning his bachelor's degree from Carnegie Institute of Technology in 1937. He earned his doctor's degree in 1941 from New York University.
Shull was a research physicist with the Texas Company (now Texaco) from 1941-46 and a research physicist at Oak Ridge National Laboratory from 1946-55. He joined MIT as a full professor in 1955 and retired in 1986.
He earned numerous awards and honors during his career and was elected to the American Academy of Arts and Sciences and the National Academy of Sciences. In 1993, he received the Royal Swedish Academy of Sciences' Gregori Aminoff prize for his "development and application of neutron diffraction methods for studies of atomic and magnetic structures of solids."
The Shulls are survived by three sons and five grandchildren. The sons plan to endow an undergraduate scholarship in physics at Carnegie Mellon in their father's name.
04/18/01