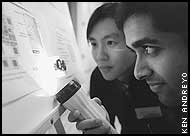 "Meeting of the Minds" Scheduled for May 9
The annual undergraduate research symposium, called the "Meeting of the Minds," will be held from noon - 5 p.m., Wednesday, May 9, in the University Center. More than 400 students representing all academic disciplines will present their work from this past year.
Projects range from building a Lego city with robotic elements to making a movie about college life. Performing and visual arts presentations will also be included. Awards will be presented in 11 categories at a 5 p.m. ceremony in McConomy Auditorium. The "Meeting of the Minds" is sponsored by the Undergraduate Research Initiative.
04/18/01