University News Briefs
SpongeBob Square Dance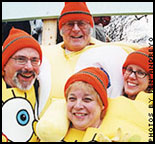 Civil and Environmental Engineering (CEE) instructor Larry Cartwright (below) risked a dive into a frigid pool earlier this month to test his students' final project in Civil Engineering Design. The students had to create floating bridges that spanned a 15-foot simulated river and supported the weight of two grown adults without resting on the walls of the pool.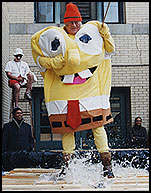 Cartwright (above, top) personally tested all bridges dressed in a SpongeBob Square-Pants costume, while CEE Professor Irving Oppenheim (far left) served as lifeguard for the event. Other bridge testers from CEE were (above, left to right) Jim Campbell, professor; Kathleen McDonough, graduate student; and Patty Langer, assistant to the department head.

Food Drive a Major Success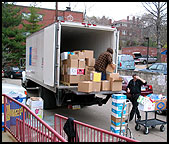 Volunteers from Staff Council loaded up 5,564 pounds of non-perishable items during its 10th annual food drive held earlier last month. The items were donated to the Greater Pittsburgh Community Food Bank, along with several Giant Eagle Gift Certificates and $141 in cash. Gloria Dadowski, Tara Klim and Carole Panno served as this year's chairs. Staff Council would like to thank all members of the campus community who participated. The food bank accepts donations year-round and relies on the support of volunteers to operate.

Doctoral Students Win Heinz Scholarships

Doctoral candidates Anand B. Rao (Engineering and Public Policy) and William R. Morrow (Civil and Environmental Engineering) have each received a $10,000 scholarship from the Teresa Heinz Scholars for Environmental Research Program, which honors doctoral and master's degree candidates who are researching environmental issues. Only eight doctoral candidates and eight master's candidates nationwide receive this scholarship each year. Rao's research topic is "A Technical, Economic and Environmental Assessment of Carbon Capture Technologies for Greenhouse Gas Control." Morrow is investigating "Barriers to a Decentralized Power Generation Market." The Heinz Foundation is principally focused on issues concerning the environment and its relation to public health.
Independent 529 Plan Locks in Tomorrow's Tuition at Today's Prices

Carnegie Mellon is one of more than 200 colleges and universities nationwide participating in the Independent 529 Plan, a new prepaid college tuition program created specifically for private colleges that locks tuition in at today's prices. The plan is a tax-advantaged way to help parents afford a private college education for their students.
U.S. residents more than 18 years of age may purchase certificates that can be used to pay future tuition costs for a named beneficiary. Those certificates, which can be redeemed at participating colleges across the country, can be used to pay the percentage of tuition that was originally pre-purchased. The December 15 issue of BusinessWeek has named Independent 529 Plan one of its "Best Products of 2003." For more information, visit www.independent529plan.org/

Hart, Rendell Make Visits to Campus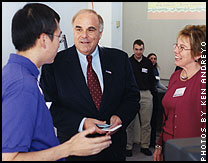 Pennsylvania Governor Edward G. Rendell and Congresswoman Melissa Hart (R-4th) were recently on campus to learn more about the university's exciting research programs. Left, Governor Rendell (middle) talks with Entertainment Technology Center (ETC) master's student Jason Yeung (left) and Maureen McFalls, the university's Government Relations director, during his visit to the ETC. The event, co-hosted by the ETC and the Pittsburgh Film Office, showcased some of Carnegie Mellon's unique contributions to the worlds of education and entertainment.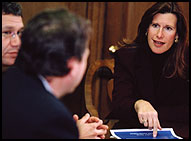 Hart (far right) spoke with Mellon College of Science Dean and Professor of Chemistry Rick McCullough and Colin Horwitz, a senior research scientist in the Department of Chemistry. They discussed clean coal applications of green chemistry.

Cohen Honored for Groundbreaking Psychology Research
Sheldon Cohen, the Robert E. Doherty Professor of Psychology, has won the American Psychological Association's Distinguished Scientific Contribution Award for 2004. The award honors psychologists who have made distinguished theoretical or empirical contributions to basic research in psychology. Cohen will be honored for his work on the roles of psychological and social factors in health and well-being at the American Psychological Association's annual convention in Hawaii in July.
Cohen is one of the architects of Carnegie Mellon's health psychology program and has helped turn Pittsburgh into the world's leading center of health psychology research. He is internationally recognized for his scientific contributions toward understanding the effects of social and environmental stress on human behavior and health.

Lady Tartans Win ECAC Championships
The women's volleyball team won its second consecutive East Coast Athletic Conference (ECAC) Championship Tournament at Moravian College last month. The Tartans, who ended the season with a 26-11 record under Head Coach Julie Webb, won the tournament crown with victories over Johns Hopkins University, Moravian and Waynesburg College. Sophomore Chrissy Bartek was named tournament MVP.
The women's soccer team also recently won its first ECAC Championship with a 2-1 victory over Moravian College at Gesling Stadium. Carnegie Mellon, which completed the year with a 12-2-4 record under Head Coach Heather Kendra, defeated Gwynedd-Mercy (Pa.) College, 2-0, in the semifinals to reach the title game. Sophomore Kristen Bevilaqua-Linn was named MVP of the four-team field.

Researchers Take Prize for High-Performance Computing
A team of researchers from Carnegie Mellon, the University of Pennsylvania and the Pittsburgh Supercomputing Center (PSC) won the 2003 Gordon Bell Prize for high-performance computing. The team was honored for developing earthquake computer simulations that play an important role in reducing seismic risk.
Carnegie Mellon team members included Volkan Akcelik, Jacobo Bielak, Ioannis Epanomeritakis, Antonio Fernandez, Omar Ghattas, Eui Joong Kim, Julio Lopez, David O'Hallaron and Tiankai Tu, and John Urbanic of the Pittsburgh Supercomputing Center.
According to Chris Hendrickson, head of Carnegie Mellon's Civil and Environmental Engineering Department, the researchers collaborated on a series of computer models of earthquake behavior over a 10-year period, creating fully realistic three-dimensional representations of basin geology, earthquake sources and earthquake ground motion. The Bell Prize also recognized the group's work on methods for determining subsurface geology from observations of surface ground motion due to past earthquakes.

Intelligent Technology Enhances Underexposed Photographs
Carnegie Mellon robotics researcher Vladimir Brajovic has developed a tool called the Shadow Illuminator that automatically improves the appearance of darkened or underexposed photographs by digitally adding light to dark areas.
Funded through a $350,000 grant from the National Science Foundation, the tool was originally developed to help robots see better. Using principles based on the physics of how optical images are formed, Shadow Illuminator imitates the vision processes that occur in the human eye. It examines the content of a photograph, estimates the illumination conditions and then brightens shadows. It also enhances details within the shadow.
Shadow Illuminator can be accessed on the Web at www.shadowilluminator.org. Visitors to this free site can upload pictures and apply Shadow Illuminator to achieve brighter, clearer results. Personalized albums to hold uploaded photos are also available to visitors who sign up for a free account.